Proposal Theme Statements & Win Strategy Training

Theme statements show the government exactly why they should choose you over your competitors. This course teaches you step-by-step how to write persuasive and memorable proposals using theme statements that highlight your discriminators in terms of customer benefits. You will learn how to build a win strategy based on these specific themes and deliver a compliant and compelling proposal.
This training workshop offers valuable skills in proposal win themes development as the most important element of persuasion. As a core component of win themes development, this course also covers win strategy development techniques indispensable in government capture management.
This course emphasizes that win themes are primarily a function of capture management, and should drive your win strategy, not the other way around.
The course walks you through the purpose of win themes, their numerous types, and their three building blocks. It discusses how they are used at every stage of the capture, proposal, and proposal evaluation process. The workshop then advances beyond the mere basics in order to explain everything needed to develop effective proposal win themes. It shows how to write win themes that are memorable and make your company stand out among other bidders. These win themes are capable of influencing your government customers so that they feel compelled to select your company.
You will then acquire techniques and practice them in hands-on exercises to transform win themes into win strategies, to help increase your proposal's win probability (Pwin).
The workshop helps practice an efficient process of getting to the right win themes within hours instead of spending days in boring and unproductive brainstorming sessions, coming up with such overused statements as "we are the lowest risk, best value provider" or "we are ISO or CMMI certified."
This workshop is 40 percent lecture, 50 percent exercises, and 10 percent discussion. Participants will learn how to masterfully facilitate win themes development sessions, and will never have to struggle with creating the right win themes or win strategies.
The experts who teach our business development, capture, and proposal training courses are highly experienced currently practicing proposal professionals whose years of successful experience in Government acquisition and training allow them to offer valuable insights to our students. Our instructors can answer tough questions as they come up during the course. They can also tailor the material to their students' specific challenges, and share their experience based on the most current realities. Check our instructor's bios on our About us page.
This class is also offered as a self study self paced on demand learning class. To learn more click here.
Upcoming Classes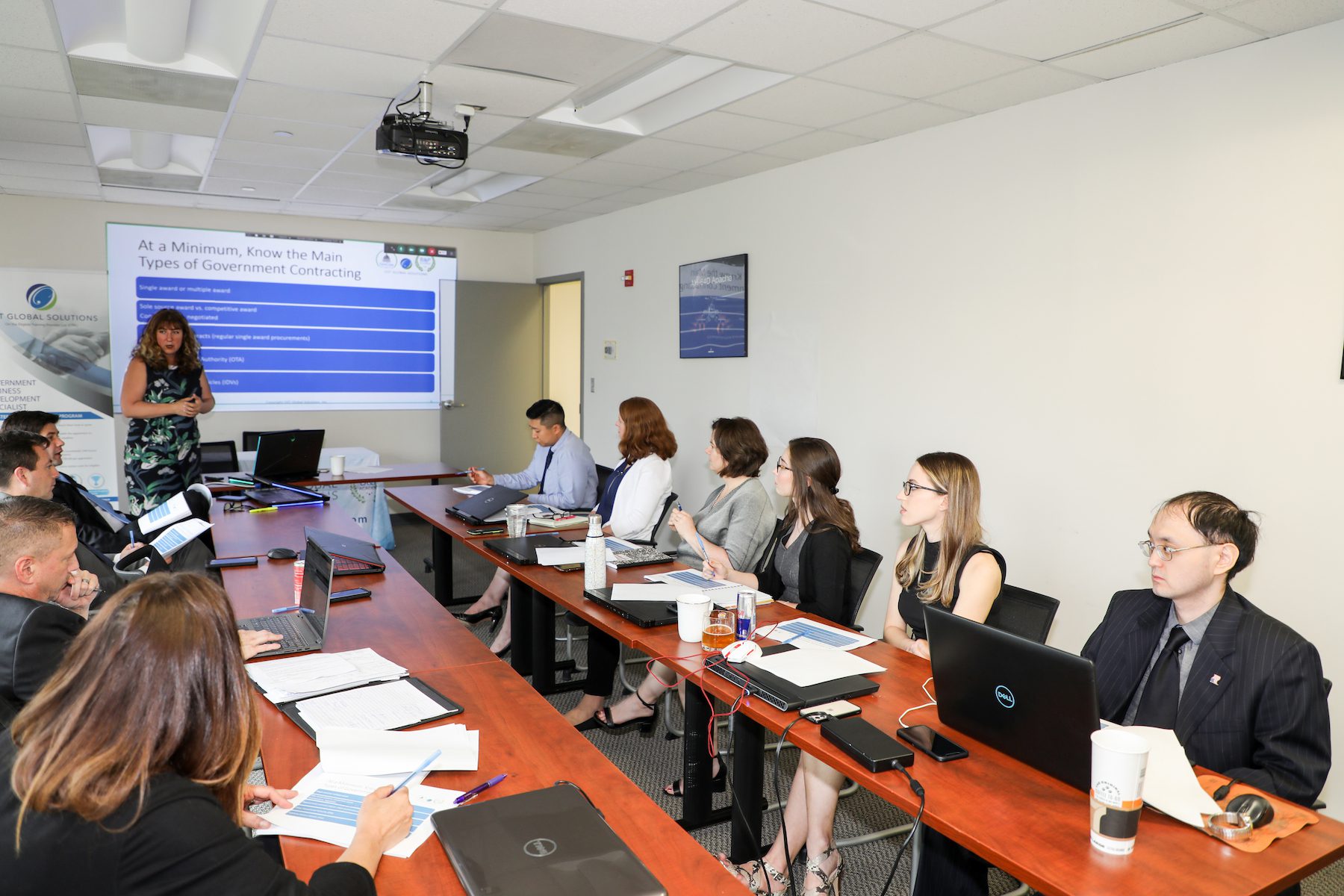 OST Global Solutions
7361 Calhoun Place, Suite 560, Rockville, MD, United States
This Government Business Development training offers essential skills in professional business development for government contractors selling services and solutions to the Federal Government. The two-day course begins with an overview of the Federal business development (BD) process and what it takes to succeed in the profession. It proceeds to the basics of U.S. Government business. Learn More
OST Global Solutions
7361 Calhoun Place, Suite 560, Rockville, MD, United States
Developing a Winning Cost Volume course helps you increase your federal contract win probability. We focus on government contract evaluation, pricing fundamentals such as cost buildup and cost volume elements, price strategy, developing basis of estimate (BOE), coming up with assumptions, Work Breakdown Structure (WBS), cost volume narrative, winning in lowest price technically acceptable proposals (LPTA), and much more. Learn More
Location
OST Global Solutions, Inc., 7361 Calhoun Place, Suite 560, Rockville, MD 20855 (check our
Visitor Guide
for location details, driving directions, nearby hotels and restaurants, and more).
Remote Attendance
This course is available via GoToMeeting with live video feed. The price per seat is the same as in-person participation. Many of our students save on travel costs and attend from other locations.
Professional Certification
This is either a major or elective class that provides 1 unit (1 day) towards Bid & Proposal Academy Certification (depending on the certification type). By attending this class, you will receive 3 CEUs or more towards your APMP certification, or PDUs towards your PMP (check with the PMI on what they will honor). At the end of this course, you will get a Certificate of Completion.
Who should attend this course
Capture managers, proposal managers, proposal writers, technical writers, government contracting business owners, proposal department directors, executive leadership, federal business developers, account managers, federal marketing and sales managers, and program managers that interface with government customers.
Course Workbook
Handouts
Templates
Forms & Checklists
Learning Objectives
Upon course completion, the participants will have learned and be able to put into practice:
Understanding the goals and the characteristics of effective proposal win themes and customer messages during the capture process.
Knowing the most useful types and categories of win themes for government capture and proposals.
​Recognizing and applying the building blocks of a successful win theme.
Identifying government customer hot buttons necessary for win theme development.
Using a three-session win theme development process.
​Refining and enhancing win themes.
​Deriving a capture win strategy and developing strategic actions from your win themes to increase your Pwin.
Applying advanced win theme development concepts to influence government evaluators more effectively.
Presenting win themes effectively in a proposal.
​Facilitating the win theme development process and applying its principles in course participants' organizations.
Introductions and learning objectives.
The purpose of win themes.
Typical problems with developing proposal win themes.​
Definition of proposal win themes.
​Rule of thumb for win themes.
​Variety of win theme forms and their examples.
​Characteristics of effective win themes that are most useful to winning your proposal.
Three general categories of win themes.
Discussion: Types and categories of win themes used in participants' proposals.
Three building blocks of effective proposal win themes.
​Function of each building block and its identifying questions.
​Dissecting each of the win themes building blocks.
​Checklists and questions for defining the building blocks.
​Making your win themes believable.
​Real reasons why people have trouble identifying benefits.
​Identifying the customer's sweet spot.
​Techniques for disciplined construction of win themes.
​Examples of successful proposal win themes.
Exercise: Identify each of the building blocks and their relevancy to the customer. Deconstruct a complex win theme.
Facilitating a win themes development session.
​Inputs into a win themes development: Brainstorming Session 1 structure.
​Outputs from win themes development: Brainstorming Session 1.
​How to automatically shift focus from you to the customer.
​Definition and types of government hot buttons.
​Techniques for identifying hot buttons for your government customers.
​Framework with a checklist for recognizing hot buttons.
​The secret sauce of win theme development: Brainstorming Session 2.
​Examples of win themes that highlight the principle of customer focus.
​Brainstorming Session 3: Weeding and refining win themes using a strategic approach.
​Facilitating Win Themes Brainstorming Session 3.
Exercise: Identify customer's hot buttons. Apply next process steps to developing win themes. Refine and enhance your win theme.
Win strategy development using win themes.
​Strategic actions development for successful capture planning.
​Types of strategic actions that increase your proposal Pwin.
Discussion: Derive a capture win strategy and develop strategic actions from your win theme.
Flavors of proposal win themes.
Advanced persuasion techniques applicable to win themes and customer messaging.
Questions to pressure-test the quality of your win themes.
Exercise: Practice changing the win theme's flavor to enhance its effectiveness.
Examples of how win themes should appear in a government proposal.
​Structure of a win theme in a focus box.
​Structure of a win theme in the text.
​Other instances of win themes.
Exercise:​Rephrase your win theme to present it in different forms in your proposal.
Capture and proposal team facilitation tips.
​Win theme development process application tips.
​Where win theme development fits in the capture and proposal process.
Discussion: How participants will implement win themes development process in their organizations.
Additional resources and bibliography.
Summary.
​Recap.
Cancellation notification must be received 10 business days prior to the training date. Upon notification, your registration fee will be refunded less a $100 non-refundable processing fee. Any cancellations beyond the 10 business days are non-refundable, but the course fee can be applied towards another training course, webinar, or an OST Global Solutions training product. No refunds will be made for the cancellation of a rescheduled course. Courses need to be rescheduled at least 24 hours in advance because we have to print the materials. As we constantly update the materials, they cannot be reused for another class. If a registrant didn't request to reschedule and simply doesn't show up on the day of the class, they forfeit the ability to reschedule. Attendee substitutions may be made at any time. Payment must be received prior to the course date. No-shows are liable for the full class fee.
If you would like to discuss whether this class is right for you or have any other questions, please call (301) 384-3350 during normal business hours.
*All payments must be received prior to the course start date.