Description
Learn How to Win Government Contracts
Win government contracts like a pro, and build a multi-million-dollar federal contracting business.
This is a proven recipe book for success with processes used by companies that have grown from a million-dollar practice to well over $100 million by training their staff in our Blueprint for Federal Business Development.
This course is unlike any other course in the market on how to win government contracts. The course includes sophisticated techniques the top government contractors use, because the government market is highly competitive. You deserve to know what really works for winning government contracts, as proven by our $22 Billion federal market win record.
This online government contracting course includes 30 hours of recorded classes that cover how to find federal government opportunities to fill your pipeline, how to get ahead of the game by using capture planning to raise your win probability (Pwin), write and manage winning proposals, and grow your business development capability. An accompanying 600+ page manual includes checklists, links, processes, and all the additional information with the exact "how-to" to help you compete with experienced federal contractors. You will also get templates and guidance to take the mystery out of winning government contracts. This is an entire business development profession in a box you can learn on YOUR schedule, at your desk or on your lunch breaks, and it's taught by one of the most engaging, experienced instructors in the industry.
What's Included & What You Can Learn: Our Blueprint is an immediately applicable system for winning large Government contracts to grow your business consistently. It's based on 20+ years of experience helping top Federal contractors, mid-tier, and small businesses win contracts. OST Global Solutions, which offers this course, is a successful consulting company that has won more than $23 Billion for government contractors since 2005 using this system. In 12 modules that consist of main class and recorded Q&A sessions (along with manuals and templates), we cover basic and advanced federal business development topics like strategic planning, market research, pipeline development, opportunity identification, capture management, proposal management, and business development effort expansion.
Who This Course Is For
This course is for government Business Developers; small business owners; vice presidents and directors tasked with growing their business development and federal sales departments; Capture and Proposal Managers looking to grow professionally; those who are new to the government contracting industry or federal business development; company business development employees or consultants looking to supplement on-the-job training with affordable formal education, or too busy for off-site classes; Federal employees who want to learn how businesses win Government contracts; and commercial firm employees who want to expand into the Federal market.
Meet the Instructor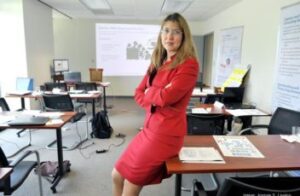 Olessia Smotrova
President & CEO of OST Global Solutions, Inc.
CF.APMP Fellow & BD, Capture, & Proposal Expert
Ms. Smotrova is a well-known author and speaker with more than 20 years of business development and proposal management experience. She's worked for Lockheed Martin and Raytheon, consulted for Northrop Grumman and General Dynamics, and provided training and proposal support to Federal agencies like NASA and Treasury, and businesses of varying sizes. To date, Ms. Smotrova has won her clients more than $20 billion in new business.
In addition to being a successful proposal professional who has won dozens of Indefinite Delivery Vehicles (IDV) and Task Orders throughout her career, Ms. Smotrova is an engaging educator who captivates her students by integrating relevant real-life examples that illustrate the principles she presents. She currently teaches courses at OST's Bid & Proposal Academy and conducts custom training sessions at client sites. She also developed and taught a graduate proposal development course at NASA for the Stevens Institute of Technology.
Detailed Curriculum
Our Blueprint for Federal Business Development course consists of 12 modules that cover four main topical areas: (1) the initial stages of Business Development, (2) the Capture Process, (3) Proposal Management/Writing, and (4) Growing Your Business Development Department.
Our Blueprint Course Covers 4 Topical Areas
Each of the four sections summarized above are divided into several modules, meaning that we do a deep dive into each topical area and cover up to three subtopics (i.e. modules) per section. Click a section to see descriptions of the related modules, supplementary instructional materials, and tools provided with our Blueprint for Federal Business Development self-study course to help you execute the concepts you learn while taking it.
Section 1: The Initial Stages of Business Development
This first section in our Blueprint series covers the initial stages of business development, such as finding opportunities. We start with an introduction to the Federal market from an insider's viewpoint. We then cover strategic planning for your Federal business and present different approaches for accelerated growth. You'll learn how to do your own market analysis to pick the perfect customers. We also walk you through cost-effective techniques for marketing to the Government and show you how to find opportunities on which you can bid, beyond using Fedbizopps. Additionally, we teach you how to zero in on specific opportunities that you have the greatest chance of winning.
Section 2: A Deep Dive Into the Capture Process
Section 2 of our Blueprint for Federal Business Development course covers capture, which is pre-proposal preparation that maximizes your chances of winning a contract in advance of a formal solicitation. We give you a road map for getting an inside track with a Government customer, gathering intelligence, developing a sound win strategy, outsmarting competition, selecting a winning team, and developing a winning solution ahead of time.
Section 3: How to Write & Manage Winning Proposals
In this section of our Blueprint course, we'll teach you how to effectively manage the proposal process and write proposals that stand out from those of your competitors. We cover how to read a Request for Proposal (RFP) and understand exactly what the Government wants. You'll learn how to plan, outline, develop win themes, write compelling text, conceptualize graphics, price your offer, finalize, produce, and submit your proposal on time, regardless of the deadline.
Section 4: How to Grow Your Business Development Department
The fourth section of our Blueprint series covers how to grow your business development department after you have a few wins under your belt. You'll learn how to teach your project staff to conduct business development during execution—in other words, how to grow your contracts after you've won work—as well as how to staff your business development team with the right professionals for your company.
This Course Is Divided into 12 Modules
Each of the four sections summarized above are divided into several modules, meaning that we do a deep dive into each topical area and cover up to three subtopics (i.e. modules) per section. Click a section to see descriptions of the related modules, supplementary instructional materials, and tools provided with our Blueprint for Federal Business Development self-study course to help you execute the concepts you learn while taking it.
Section 1, Modules 1-3: The Initial Stages of Government Business Development
Module 1: Federal Contracting Overview
Module 1 provides an overview of every step in our Blueprint for Federal Business Development and introduces key success components that government contractor companies use to grow aggressively. You'll receive an introduction to the government market from an insider's viewpoint, demystifying the ways successful companies consistently win government contracts. This module covers the basics you need to know.
Module #1 Topics Covered:
Intro to the Blueprint that enables companies to consistently win business from the U.S. Government
​How businesses grow
​The formula for scaling up a Government contracting business
​Registrations necessary for a Government contracting company
​Federal market foundations
​Who are the buyers in the Federal Government
​Navigating the Federal Acquisition Regulations
​Appropriated funds – understanding the U.S. Government budgeting cycle
​Complex procurement process used by the Government
​Small and disadvantaged business types in the Socioeconomic program
​How to leverage small business status and socioeconomic programs to your advantage, whether you have a large or small company
​Mentor-protégé programs
​Understanding and how to select your NAICS code
​How the Government enters into contracts with industry
​Simplified Acquisition Thresholds (SAT), micro purchasing
​GSA and VA schedules
​Goals of Business Development and Capture
​Single award competitions
​Indefinite Delivery Vehicles (IDV): understanding the difference between IDIQs, BPAs, GWACs, EWACs, MACs, BOAs, MAS,
MATOCs, and other members of the "acronym soup"
​Sole source awards secrets
​Becoming a Defense Logistics Agency wholesale supplier
​Mastering reverse auctions
​Understanding where to find grant opportunities
​Public-private partnerships
​Research and Development (R&D)-related contract vehicles
​Government Contract types and why they are important
​Evaluation Factors Such as Lowest Price Technically Acceptable (LPTA) and Best Value
Module 1 Q&A Topics Covered:
Dun & Bradstreet explanation
​How to build company credit and pass Government responsible party determination
​How to collect payments from late-paying Customers without destroying the relationship
​Business Development lifecycle and why market research comes after Business Development planning
​Explanation of pipeline development and leading tools
​Business Development metrics
​Introduction to capture and why it is important to do capture
​Win strategy development
Module 2: Strategic Planning, Market Research, & Marketing
This module teaches how to develop a strategic plan to grow your government contracting business and perform market research to inform and validate the plan. You will learn how to find government buyers that buy what you sell, and use the services that you offer. You'll also learn how to leverage the five most effective techniques for marketing to federal government without spending a fortune.
Module #2 Topics Covered:
How Small Businesses typically grow within a target agency
​Characteristics of a company without a strategic Business Development Plan
​Strategic Business Development planning process
​Investment required to properly fund a successful business development organization
​How to analyze and expand core competencies
​How to determine must-win opportunities
​How to transition from subbing to priming in a new market or as a new business
​How to conduct thorough market research
​How to engage correctly with the Office of Small and Disadvantaged Business Utilization (OSDBU)
​Developing an integrated marketing campaign
​Rainmakers and using them effectively
​How to market to the Government the right way
​How to get facetime with the Customer
​Establishing yourself as a trusted advisor and what it means to the Government
​What to include in the capability statement
​Developing capability statements that work
​Rules of engagement with the Government you must know
​Thoughtful Request for Information (RFI) responses: key to marketing your expertise and experience
​Epic RFI fails
​The gap between what Government needs and what companies usually provide in RFIs
​Examples of bad RFI responses
​Ensuring your website is useful
​Leveraging social media and PR
​Additional low-cost marketing tasks
​Medium and higher-cost marketing activities
Module 2 Q&A Topics Covered:
Market analysis flowchart for Step 3 of the Blueprint
​Strategic considerations on diversifying the company's expertise
​Discussion on win rate for bids where the company is a subcontractor, and how to ensure you are successful in finding a prime
​Proposal development tools
​Tool for past performance database
​GovWin IQ tour and what it does, and brief Bloomberg Government (BGov) tour
​How to work effectively with proposal companies
​How to target publically owned commercial companies for work
Module 3: Pipeline Development & Opportunity Qualification
This module teaches you how to find government bid opportunities that are a strategic fit for your company, as well as how to determine early on which government opportunities are perfect and which are a waste of time and Bid & Proposal (B&P) dollars. This module covers the 12 techniques for finding government opportunities for your pipeline and how to qualify those opportunities against your strategic business development plan to achieve rapid growth.
Module #3 Topics Covered:
​What businesses with a broken pipeline process sound like
​A good way to think of an opportunities pipeline
​An approach to developing an opportunities pipeline
​Building and managing your opportunities pipeline
​How to use an integrated, multifaceted approach to finding Government contracting opportunities
​Technique 1 – Using capture intelligence databases effectively
​Finding opportunities using various tools
​Technique 2 – Checking where your Government Customers post opportunities and little-known sources for opportunity identification
​How to "marry" information on public websites with paid database information
​Technique 3 – Getting facetime with the Government Customer
​Technique 4 – Leveraging your workforce and partners correctly
​Technique 5 – Reducing competition or getting government sole source awards
​Detailed explanation on how to obtain sole source awards, including sole source process for businesses not subject to statutory authority
​Technique 6 – Creating opportunities
​Technique 7 – Targeting a hunting prime
​Technique 8 – Finding a hurting prime
​Technique 9 – Registering with specialty websites
​Technique 10 – Registering with large primes
​Technique 11 – Attracting Customers and Partners through web and social media
​Technique 12 – Networking at events
​Pipeline SaaS platforms and key requirements for platform selection
​How to qualify an opportunity to start the capture process
Module 3 Q&A Topics Covered:
What is the Small Business Set Aside Alert?
​Additional Technique 5 details: Sole source awards for businesses not subject to statutory authority
​Unsolicited proposals and how to help the Government develop an RFQ for an unsolicited proposal
​How to help the Government with market research for the sole source
​Proposal tips for sole source procurements
​Sole source Justification & Approval (J&A) content
​What to emphasize in a J&A "fodder"
​What to watch out for in a J&A "fodder"
​Does a sole source awardee need to have a contract vehicle?
​Case study on how to proceed with a sole-source award
​How does a sub find a hunting prime and obtain past performance
​Information about past performance databases, PPIRS and CPARS
​How to develop a value proposition to potential prime teaming partners
​Example and components of a quality one-page capability statement
​Contents of a Strategic Business Development Plan
​Demo of how to identify the right federal Government Customers to target
Note: Completing the 3 modules presented in Part 1 counts as self-study or an eLearning experience that will earn you 5 CEUs towards APMP certification.
Section 2, Modules 4-7: Capture Planning to Position You to Win Before an RFP Is Issued
Module 4: Capture Overview & Customer Engagement
Module #4 will teach you how to create strong, lasting relationships with your Government Customers. Enduring relationships will give you an insight into your Government Customers' true "care abouts", as well as their worries, challenges, mission drivers, and buying criteria. Building relationships will also make your Customers want to choose you over your competitors. This module covers the process commonly known as capture, and it deep dives into the first phase of capture – Customer Engagement.
Module #4 Topics Covered:
What is capture?
The overlapping goals of Government Business Development and capture
​Phase 1 summary – Customer Engagement
​Phase 2 summary – Intelligence Gathering
​Phase 3 summary – Win Strategy Development
​Phase 4 summary – Competitive Analysis
​Phase 5 summary – Teaming
​Phase 6 summary – Solution Development
​The four main capture tasks that you accomplish with the Customer
​Understanding your Customer's organization
​What is a Customer Map and how it is used
​Government roles and responsibilities during procurement and proposal evaluation
​Understanding a Government Agency's buying process
​The six types of Government decision makers
​The difference between the Customer's level of importance and level of influence on programs
​How to contact Government decision makers when the door is often closed
​How to build relationships with the Government decision makers
​Buyer modes that you will encounter and who to focus on
​Your psychological stance when engaging with Government decision makers
​How to position yourself as a trusted advisor
​Developing a Customer Contact Plan
​How to collect information on Government opportunities ethically
​How to shape the RFP requirements in your favor
​Understanding the diminishing opportunity to shape the requirements as procurement progresses
​The kinds of RFP requirements you can shape during capture
​How to vet your solution with the Government decision maker
Module 4 Q&A Topics Covered:
​Elements of capture: Intelligence Gathering techniques
​How to submit FOIA requests like a pro
​Teaming techniques for government contractors
​Understanding your Customer's hot buttons
​Qualification gate review process
​Business Development maturity levels and Capability Maturity Model (CMM) for BD
Module 5: Information Gathering and Win Strategy
The best-informed government contractors win, which is why this module covers how to gather actionable intelligence from government customers. Learn how to develop great win strategies and win themes so that your proposal focuses on the proposal evaluators and clearly articulates your value proposition. These phases of capture build on your relationship with the government decision makers and mark the beginning of when you will start developing proposal text and graphic in anticipation of proposal preparation. Developing hard-hitting, customer-centric win themes will make writing government proposals easier and raise your Pwin.
Module #5 Topics Covered:
Capture aspect 2 – Intelligence Gathering​Getting multi-dimensional – the overlap between Customer engagement and intelligence gathering
​Documenting the intelligence
​Site visits, industry days, and bidder's conferences intelligence gathering
​How to collect Customer presentations, briefs, and other artifacts
​Papers, plans, GAO findings, press releases, and other intel sources
​Questions to ask your Customer to inform win themes
​Your Customer's end users' intel
​Verifying your understanding and solution with the Customer
​Researching opportunity background and history
​Performing Internet research like a pro researcher
​Collecting rumors and stories
​Ethical intelligence gathering
​Capture Aspect 3 – Win Strategy Development
​Multi-dimensional view – how Customer engagement and intelligence gathering inform win strategy
​What are the win themes (i.e. proposal themes)?
​The three general categories of proposal win themes
​The building blocks of effective proposal win themes
​The real reason why people have trouble identifying benefits in a win theme
​How to shift the focus of your proposal from you to the Customer
​How to recognize the hot buttons, and what they are
​Understanding how to collect hot buttons
​The secret sauce of win themes
​Examples of win themes
​How to use ghosting in your proposal to put your competition in a negative light
​Avoiding incumbency pitfalls and deadly "incumbentitis"
​How to transform win themes into win strategies
​Sample win strategy statements
​Examples of all-too-common bad strategies
​Developing strategic action plans
​Developing a comprehensive Capture Plan
​Capture Plan Template
Module 5 Q&A Topics Covered:
Using MS OneNote for gathering capture information
Further details on using ghosting
​How win themes appear in the proposal
​Proven practices for highlighting win themes in proposal focus boxes
​Example of a win theme focus box
​More details on win strategies and action plans
Note: This Module includes OST's Capture Plan Template, which is different from the typical Shipley capture plan template.
Module 6: Competitive Analysis and Teaming
This module shows how to analyze your competition so that you can capitalize on your competitors' shortcomings and outdo them through strategic actions. The modules includes a process for conducting a Black Hat, and competitive analysis for Indefinite Delivery/Indefinite Quantity (IDIQ) vehicles with multiple awardees. It discusses a systematic way to decide whether you should be a prime contractor or subcontractor. We also show you how to choose and engage the right teaming partners to create an all-star team that compels the government to select you.
Module #6 Topics Covered:
Capture aspect 4 – Competitive Analysis
Multi-dimensional view – how competitive analysis fits with the first three elements of capture
​How to identify competitors
​What information you need to collect for competitive analysis
​Using company websites for competitive analysis
​Additional information sources for competitive analysis
​Competitive analysis process
​SWOT analysis technique
​Strategic competitive mapping using quadrants
​Conducting a Black Hat review
​Competitive analysis for IDIQs with multiple awardees
​Where you want to be on a cost and value spectrum
​Capture aspect 5 – Teaming
​Multi-dimensional view – how teaming fits with the first four elements of capture
​The benefits of teaming
​The downsides of teaming
​Determining a teaming strategy
​Filling the teaming gaps – using a matrix to map out capability and past performance gaps
​Which companies you should team with
​Selecting the right type of teaming
​Teaming strategies for priming and subbing
​The skinny on Joint Ventures
​GSA's Contractor Teaming Arrangement (CTA)
​Strategic considerations for whether you should become a prime contractor or subcontract to another prime
​Determining scope, size, and synergies
​Where to find teammates for Government contracts
​Small business subcontracting
​Timing for teaming
​U.S. Government's small business program and socioeconomic benefits
​Mentor-protégé program
​Legal documents progression for teaming and subcontracting
​Elements of a teaming agreement
​Negotiating teaming agreements for success
Module 6 Q&A Topics Covered:
​More details on FOIA requests
​Teaming exclusively vs. non-exclusively: pluses and minuses
​How to develop an all-star team
​Teaming vs. no teaming decision checklist
​Teaming negotiations checklist
​D&B report example
Module 7: Solution Development and Capture Management
This module shows how to develop a technical and management solution pre- and post-draft RFP to wow the government decision-makers and place your proposal in a whole different league. We will show you how to manage your capture effort effectively while conserving resources. This module is all about frontloading the proposal development process, so that your proposals are less stressful and result in a better document, increasing your Pwin.
Module #7 Topics Covered:
Capture aspect 6 – Solution Development
​Multi-dimensional view – how all of the elements of capture work together
​Why most proposals are a struggle
​Defeating culprits for bad proposals
​Solving the business developer's dilemma – how to develop great proposals while conserving resources
​Tips for brainstorming with a checklist and how brainstorming checklists work
​Developing outstanding executive summaries
​How to develop custom management solutions
​Topics to include in a management checklist
​Organization chart checklist example
​How to develop compelling technical solutions
​How to postulate RFP requirements before the RFP is issued
​Price-to-win (PTW) development process
​PTW information sources
​Conducting a labor rate analysis
​Engineering the win
​Strategies to get to the PTW
​Capture management steps sequence
​Scheduling capture activities: long lead time is an illusion
​Dealing with resource and time scarcity during the capture process
​Dealing with slipping deadlines
​Arriving at the RFP release date prepared and in a position to win
Module 7 Q&A Topics Covered:
​Other solution development techniques besides checklists
​Group brainstorming and steps for effective brainstorming
​Using the 8Ws for solution development
​Individual brainstorming through mind mapping
​Universal organizer (UNO) as a mind mapping alternative
​Examples of UNO usage
​Flowcharting technique for solution development
​Starting with graphics to develop CONOPS
​Level of detail for executive summary graphics
​Best practices in the technical approach
​Past performance references preparation
​Best practices for developing a proposal executive summary
Note: Completing the 3 modules presented in Part II counts as self-study or an eLearning experience that should earn you 5 CEUs towards APMP certification
Section 3, Modules 8-11: How to Prepare Winning Proposals
Module 8: Framework for Developing a Compliant & Compelling Proposal
Module #8 will help you gain an understanding of why proposals do or do not win, and show you how to make an educated decision to bid or not to bid, analyze and "shred" the RFP, and develop a proposal schedule to deliver the proposal on time. This module provides an overview of the proposal development process and key tasks that a proposal manager needs to accomplish.
Module #8 Topics Covered:
Walking through the proposal process
​Understanding how RFP structure and form differs significantly across agencies
​How to read a Government RFP
​Understanding which RFP sections are important for the proposal
​A system for making a bid-no-bid decision
​How to dissect requirements – the basics to outlining and understanding what is really being asked for
​How to change requirements into an annotated outline
​How to develop a compliant proposal outline and structure
​How to create a compliant outline/status tracking matrix in a table
​Being able to tell a story while remaining compliant – the art of developing great proposals
​Naming and numbering your sections for easy evaluation
​Developing and using a compliance matrix
​Developing and using a compliance checklist
​Developing your proposal plan
​How to build a proposal schedule
​Sample 30-day proposal calendar
​Creating a proposal organization chart with roles and responsibilities
​Conduct a great proposal kickoff
Module 8 Q&A Topics Covered:
Experience/best practices with how much of the proposal development process is shared by the prime with subs/teaming partners
​What approach to take with sharing the process and intellectual property
​Methodology/process for outlining a response to a Request for Information (RFI)
​Compliance matrix development process
​Issuing proposal assignments
​RFP analysis checklist; information to look for in the RFP
​Orals requirements
​Fulfilling all the RFP requirements
​Determining if an RFP is wired
​Storyboards versus annotated outlines versus work packages
​Storyboard pitfalls; when to use work packages instead of annotated outlines
​Using work packages when the RFP is too large and complex
​Roles/responsibilities between the proposal manager and capture manager
​Using Atebion's Document Analyzer to "shred" an RFP
Module 9: Developing a Winning Proposal Document
This module covers in detail how to create a compliant proposal outline that helps get the highest score from evaluators and integrates your proposal document upfront. Creating this type of annotated outline and proposal template helps the proposal team develop better proposals, faster. This module also discusses how to get maximum points in the business proposal and cost narratives, past performance, and resumes.
Module #9 Topics Covered:
Creating Customer-centric proposal title pages
Building your proposal template
​Transferring your outline from a compliance matrix into the proposal template
​The benefits of developing an annotated outline
​Annotated outline example
​What to include in your annotated outline
​The differences between experience and past performance
​What to do if you don't have past performance
​Important past performance reference selection tips
​Building an RFP-based past performance template
​How to fill out your past performance template
​How to make your past performance sizzle
​Understanding the past performance development process
​Preparing the Government references for answering questionnaires with positive feedback on your performance
​The importance of resume preparation – a missed opportunity
​Proposal resume preparation process
​Completing the hardest task: selecting key personnel
​Managing resume workflow
​Important resume tips
​Proposal resume template example
​Understanding the cost volume development process
​Understanding what goes in the business proposal narrative
​Developing the cost volume executive summary
​Additional items to discuss in the cost narrative
​Additional information that may be requested
Module 9 Q&A Topics Covered:
​Proposal template development
​Past performance template
​Past performance tips
​Proposal narrative
​Cost volume
​Competitor ghosting in a Lowest Price Technically Acceptable (LPTA) procurement
​Highlighting risk through Basis of Estimate (BOE) and technical solutions
​Ghosting competitors
​Providing additional information requested in cost volume
​Subcontracting plan table of contents
​Discussing elements of a proposal submission checklist
Module 10: Increasing Your Proposals' Persuasiveness to Win
Module 10 covers the key elements of persuasive proposal writing and explains how to write highly compelling Government proposals. This includes the correct writing process, proposal section flow, proper structure of an argument, using impactful proposal graphics, and so on. This module also covers what not to do in a proposal, including bad proposal language that kills persuasion. This module also covers proposal readability, graphics conceptualization, and proposal desktop publishing with layouts that help present professional-looking documents.
Module #10 Topics Covered:
​The art of persuasion in writing government proposals
​Elements of persuasion in proposal text
​The correct writing process
​Understanding the proper proposal structure and section flow
​Proper structure of an argument
​Using win themes correctly
​Using stories in the proposal to make boring proposal writing more interesting
​Using metaphors that create a mental picture that's worth a thousand pictures
​Language that kills persuasion – what you shouldn't say in a Government proposal
​Common proposal statements that sound fake
​Avoiding passive voice
​Using an editing checklist to speed up your proposal editing process
​Proposal readability
​How to eliminate wordiness
​Other enemies of clear writing
​Understanding the graphic designer's contribution to proposal
​Types of proposal visuals
​Graphics rules
​Understanding visual principles
​Conceptualizing graphics and developing action captions
​Proposal graphics design methods
​Understanding the graphics development process
​Creating a visually appealing proposal document
​Understanding proposal layout types and using the most readable proposal layouts
​Performing a thorough error check before producing the document
Module 10 Q&A Topics Covered:
​Proposal text examples
Proposal graphics examples
​Estimates of how long the development of the proposal graphics takes
​Graphics redlining process
​Proposal editing automation tools
Module 11: Proposal Management, Reviews, Production, Debrief, and Lessons Learned
Module 11 covers steps that go into managing a Government proposal, including running effective proposal reviews (Pink Team, Red Team, Gold Team, Peer Review, and so on), issuing data calls, managing proposal sections workflow, polishing your proposal, managing proposal graphics development, and producing and delivering your proposal on time. This module also covers what to ask during after-award debriefs and how to conduct lessons learned to continuously improve the proposal process.
Module #11 Topics Covered:
​How to track proposal volume, section, and graphics progress
​Using daily status meetings for your proposal
​The most important task of proposal management
​Managing graphics to completion
​How to issue effective data calls
​Managing document workflow and configuration control
​Managing a virtual proposal team
​Conducting effective proposal reviews
​Selecting the right number and types of color reviews
​Setting the right tone for the review team
​Using different methods for conducting reviews and their suitability for your proposal
​Bid-no-bid review (recap)
​Conducting an Annotated Outline review
​Understanding In-Process Reviews: a proposal manager's insurance
​Conducting a Pink Team review
​Conducting a Red Team review
​Using a highly effective Peer Review
​Conducting a Read-Aloud review
​Conducting a Gold Team review
​Setting the review team rules
​Preparing for a color review
​Developing a color review agenda
​Issuing assignments to the reviewers
​Running an effective review debrief
​Proposal production rules
​How to determine production requirements
​How to select binder sizes for your proposal
​Understanding proposal cover, title sheet, spine, and back requirements
​Communicating and collaborating with the production team
​Conducting a White Glove review
​Confirming delivery with the Government Customer
​Printing and binding a hard-copy proposal
​Completing an electronic submission
​Preparing the proposal for hand-delivery
​Preparing the proposal for shipping
​After-award debriefs
​Understanding lessons learned – the most common best practice not followed
Module 11 Q&A Topics Covered:
Proposal workspaces and proposal management collaboration tools
​Proposal reviewer training
​Proposal consulting costs
​Proposal review tools
​Debriefings with the Government Customer
​Importance of attending a debrief whether you have won or lost
​Preparation for the debrief
​Preparing the team for a lost proposal debrief
​Lessons learned details
Note: Completing the 3 modules presented in Part III counts as self-study or an eLearning experience that should earn you 5 CEUs towards APMP certification.
Section 4: Optimizing your Business Development Process
Module 12: Organization, Gates, and Other Ways to Scale Your Government Business Development Machine
This module covers the proven practices for organizing your Business Development department, establishing gate reviews, and scaling your Government Business Development machine. You will learn how to build your Business Development organization from the ground up, staff it, develop your resources and processes, and train the staff in the key Business Development roles and responsibilities.
Module #12 Topics Covered:
How business owners get stuck in the no-growth zone for years
​Building a mature BD organization
​Adding the right staff at the right time
​Growing your BD organization
​Business development key performance metrics
​Starting out right: hiring a good business developer
​Understanding business development skillset and essential qualities
​The business developer's responsibilities
​Understanding capture manager's skillset and essential qualities
​Understanding proposal manager's skillset and essential qualities
​Additional Business Development organization roles
​The importance of subject matter experts to winning proposals
​How to train your operations staff to do Business Development while doing their day job
​Ensuring your resources are highly professional
​The heart of an outstanding BD operation – a documented process book
​Decision gates to move opportunities through the pipeline
​Decision gate examples
​Optimize your Business Development tools
​Setting up a proposal collateral library
Module 12 Q&A Topics Covered:
Acronym software to speed up the Acronym list development process
Winning in Oral proposals
​How to cope with the race to the bottom and decide whether you even want to play the LPTA game
​Highlighting risks in BOEs and technical solution
​Fringe rate strategies to survive in the LPTA environment
​Overhead and G&A strategies to keep your rates down
​How the Government will review your Cost Proposal
When you get the Blueprint for Federal Business Development
As a part of this self-study, on-demand course you will receive online access to the full course with 12 1.5-Hour-Long Modules, 12 1-Hour-Long Q&A Sessions, & a 600+ page Manual with Templates, Reusable Checklists, & Other Tools.
Blueprint for Federal Business Development FAQ's
What does the Blueprint course cost?
This is a self-paced program that accelerates your understanding and navigation of the federal market and helps you position for and win government contracts. This package—presented by well-known author, speaker, CF.APMP Fellow, and President and CEO of OST Global Solutions, Inc., Olessia Smotrova—is available for $4,997. You can also purchase individual modules at $475 by clicking on Request More Information.
What topics will the Blueprint course cover?
Our Blueprint for Federal Business Development course combines the topics from our eight courses on business development, capture, proposal management, proposal writing, and win themes development from our Bid & Proposal Academy. It also comes with a 600+ page manual with how-to procedures, checklists, and explanations that is not offered with any of our other courses. You can read about the specific topics we'll cover in each segment of this course by visiting our Blueprint Sections & Modules page.
The cost of this course will pay for itself the first time you win a proposal, if not sooner. It will save you countless hours of wondering how to get started and/or wasting time making mistakes you could have easily avoided.
Buy this course now and stack the deck in your favor. It's a relatively modest investment with a potential of multi-million-dollar payoffs.
Is your online payment process secure?
Yes, our payment process is secure. We use the Authorize.net secure payment portal and are a verified Authorize.net merchant. You can buy our Blueprint for Federal Business Development course and pay online using Visa, MasterCard or American Express. If you would rather receive an invoice and pay by check, please email your request to service@ostglobalsolutions.com.
Can you send me an invoice?
Yes, we can absolutely send you an invoice. Please send your request via email to service@ostglobalsolutions.com, and we will invoice you so that you can arrange for your company to pay for this course.
Will this material apply to large companies or just small businesses?
This material applies to both, although small businesses can (and have) successfully used it to grow. Here is a quote from a message we got from someone who works for a large corporation: "I work for a large defense contractor, but in a sector that is still operating in start-up mode." This person then went on to provide details that would be more easily attributed to a small business than a large company. The truth is, large businesses don't necessarily all have large and sophisticated proposal centers or strong processes. Many have processes that are too high-level and don't apply to the practical day-to-day realities. And, many divisions of large businesses have the same growth challenges as small businesses, so they could use some lessons on how to do things more efficiently.
Our capture and proposal processes are as sophisticated as one would need to win a multi-billion dollar proposal, and they don't conflict with the key milestones of the typical proposal process large businesses use. However, they are also fit for small businesses, because we've cut out all the fat and focused instead on the "choke points"—the key areas one absolutely has to address to win that enable you to achieve multiple goals in one shot. For example, instead of the Shipley's 96 steps in the process of winning business, our capture process has 6 steps, and our proposal process has 6 phases, all without missing anything you absolutely need to win. This way you can conserve resources and get to your goal of winning proposals faster. Wouldn't any business want to do things more effectively and efficiently while spending your precious B&P dollars in trying to win government contracts? And, since this course also covers small business socioeconomic programs, it will help you form smart teams and understand how to go after certain lucrative opportunities a large business may have not considered.
Who from my Business Development Department should take this course?
Everyone who is involved in business development activities should get a license and purchase this course – we will work with you on multiple license pricing. You will have greater adoption of this process if you involve your entire team. Even people who work on programs and are directly chargeable to your customers would benefit from taking this course. Here's why: If trained to develop business correctly, those team members who work on projects with your government customer(s) can be your eyes and ears and capture valuable intelligence. They'll be the first to hear about the need for additional help (i.e. bid opportunities to add scope to your existing contracts) and new projects before they're formally announced. Starting capture early with an existing customer who already knows and trusts you enough to work with you again will make it infinitely easier to win new projects.
Imagine what it would be like if your entire workforce became your sales force. The Blueprint for Federal Business Development can help you make that happen easily and affordably. If you start applying your new business development knowledge as you work through the pre-recorded modules, Q&A sessions and accompanying Blueprint manual, this course could pay for itself before you even finish it!
We already have a basic proposal process in place, but we still jump at every opportunity and finish proposals hours before the deadlines. Will this course help us?
Yes. The greater part of this course focuses on pre-proposal preparation (i.e. business development and capture). This is where most government proposals are won and lost. If you master those aspects of the government proposal process, then you will be able to plan better and get ready sooner, so you won't have to scramble at the last minute again and live in a constant state of stress.
My business is new to the Federal market; we literally just founded it a few months ago. Can this course help me?
Yes! In fact, it's better to be doing this now than later. Wouldn't it be smarter to start your business off on the right foot fresh out of the gate?
I already hired a professional proposal manager and a technical writer, and we have a business development person, but I think we could get better results. How will this course make us win more?
Remember, to be really good, every proposal manager needs to understand the full picture and continuously polish their skills. Every business developer and capture manager needs to understand what it takes to write effective proposals, so that what they prepare is actually usable in a proposal. (Now, most of the time it's not). And, everyone on your team needs to have a crisp, detailed, and repeatable set of procedures they will follow every time so that they can repeat their success over and over again.
Here are some questions for you to ponder: Is your proposal staff doing a good job? How narrow is their training? Is it only in proposal management, meaning they don't understand how knowing other parts of the business development cycle can enhance their ability to win proposals? Or are your business developers pretty much hands off when it comes to writing proposals? How is your win rate currently? Is it around 30%, like a typical company, and growing your business at a modest rate, or are you looking to double your win rate and double the size of your business? Are you working your team to death already with results that aren't as good as you'd hoped for? If these questions are giving you some serious food for thought, you may want to buy the course yourself and your entire business development team to make reaching your growth goals easier for all of you.
I'm a pretty good business developer. Can this class help me get even better or is it going to be too basic for me since I am not a beginner?
There is a reason you are even interested in this course and are reading this; it means that you recognize the value of continued learning. In fact, this course might be exactly what you need to start seeing greater results from what you already do well, and to take your skills up a few notches further. If you do a lot of what you do instinctively, it will help you to put a system around it. Taking this class will help you become consciously aware of why you do what you do, and you will then do it even better. Besides, people are not always "on"; there are days when we forget to do something that's really important and a key ingredient in our success. After taking this course, you'll always have checklists and templates to go back to on your "off" days, to remind you what to do and how so that you can deliver results regardless of how you feel. Plus, you'll likely find you'll agree with the industry veterans who have told us that our courses are full of tips and shortcuts that they've found new and invaluable despite their 20+ years of experience in the field
I've taken capture and proposal classes before, but they use processes that apply to large businesses, not our small team. How is this class any different?
Ours is an EASY-TO-FOLLOW system, and not a 96-step process that even seasoned proposal professionals get lost in. What we've done is put together a system that you can plug-and-play in your own business. Ours was designed for people in a small team who want a practical, down-to-earth way to get results for their business. If that's what you're looking for, that's what you'll get in our course.
I'm tired of writing proposals and not getting great results. Will this really help me?
You're in the right place! This course is designed for you. Check out our Course Benefits page to learn exactly how it can help you land more government contracts.
I'm between jobs and it's a huge investment for me. Should I take the risk?
A place between jobs can be a scary place. We went out of our way to make this class affordable; since it combines 8 of our regular classes, it's an incredible bargain, and it's less pricey compared to other classes that are this comprehensive. We will also send you an official course completion certificate at the end of the class to make you more marketable to employers.
Last year one of our participants took our class after being unemployed for nearly a year. He wrote to the instructor after each class saying how this was the best decision for him. He found a job shortly thereafter in this field, successfully switching his profession from sales to Government business development. Another commercial proposal writer was in between jobs and this was his introduction to Federal proposals. He is now successfully consulting in this field and making more than he did as a salaried employee.
How do I convince my employer to pay for me to take this course?
You may want to show them the curriculum and the tool set that you will get from this course. They can also do a comparison with the other courses out there that don't go into nearly as much detail as our Blueprint for Federal Business Development series does. The return on investment from this course will be tremendous—with the time you save preparing your proposals and with the first proposal you win. As your win rate goes up, your management will be glad they approved the expense.
As for the time it will take for you to complete this course, it is easier for your managers to have you take it from your desk while you're still working as opposed to taking off for a whole week to go somewhere to do your training. In terms of cost, they won't have to pay for travel, and they can get you high-quality training for a fraction of the cost of the 8 courses integrated into this package, which consists of a manual with helpful checklists and other tools and 30 hours of educational modules and Q&A sessions with students who participated in the live course. Check out the first Q&A on this page for full pricing details and show your managers why it makes sense to purchase our Blueprint course.