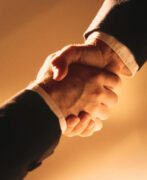 A great business developer is a "people" person who builds and sustains long-term relationships with customers and partners, finds opportunities, and closes deals. This naturally requires legwork and face time with people, sometimes translating into drinks, golf, and dinners. Unfortunately, some business developers equate business development with kicking the bobo with friends high up in the government, fine dining, and exclusive golf courses. They call it "opening doors." They say BD takes time. And while that much is true, it is easy to mistake movement for progress, and lose sight of the goals.
Some business developers believe that their old relationships will carry them all the way to winning numerous contracts, and inevitably, there will be a pot of gold at the end of the rainbow. In reality, there is much more a business developer can do, apart from maintaining contact with old pals. The best business developers don't just count on their existing relationships for success. There are other approaches that, when combined with great face-to-face time, make them exponentially more effective at business development.
1. Set goals with your BD personnel and determine how many opportunities you should have in the pipeline to stay constantly busy. What are some of the key pursuits in your pipeline you must win in order to achieve your goals?
Your first step is to determine a reasonable goal for your bookings by the end of the year. Bookings are money from your wins that are expected to be received from your customers based on signed contracts. Then, you need to determine how many bids you are going to submit in order to reach that goal. Simply take your end-of-the-year bookings goal, and divide it by your win rate.
Let us say you hope to make $20 million in bookings. Using an industry average 33% win rate, you will find that you will likely need to bid on roughly $60 million worth of bids. This way, when you only win a third of them, you will still hit your $20 million marks. Your next step is to determine how many proposals you have to write in order to reach $60 million. For example, would you rather bid on three RFPs worth $20 million, hoping to win one, or would you rather bid on six RFPs worth around $10 million each, hoping to win two?
Once you come up with an answer, you may want to look at your pipeline of opportunities and see if you can identify the bids that will make up your $60 million in the timeframe that you have identified—or assign an action item to aggressively hunt for these opportunities and identify them within weeks of your strategic planning session (otherwise it will be too late).
In all your planning, you will have to take into consideration that there is a lag time for government awards. Some of them can be awarded within 1-3 months, especially as task orders on MACs, while others may take up to a year or two to award.
The idea is to have at least one proposal to bid on every month and depending on your size, you should submit two or three to ensure continued growth.
2. Build trusted advisor relationships with your customers. Your first task is to create a contact plan using phone calls, visits, and, to a lesser degree (and very cautiously), e-mails. You need to build as many relationships as possible, with as many contacts at the agency as you could possibly find time to get acquainted with.
The reason you need to go wide and not only deep is that your main government contact could up and leave after you've invested all your time and efforts into the building that one relationship. For example, in DOD people frequently get reassigned after only a couple of years in the office. Therefore, you want to ensure that you establish a larger footprint at whichever agency.
To position yourself as a trusted advisor, learn through your interaction with the customer about his or her pressures, key care-abouts, hot button issues, and needs. You will have to practice your active listening skills. Use this information as an opportunity to serve and offer help to your customers. They might need you to guide them in preparing the statement of work, learn about state-of-the-art technology, or explore different options to solve challenging problems on their projects.
3. Build a robust pipeline of opportunities. Without a great pipeline, your growth will be disorganized, unpredictable, and entirely dependent on luck. Your pipeline can take the form of an Excel spreadsheet or some other well-known solution such as Salesforce. A key to a great pipeline is to use a simple but robust tool, dedicated resources for updating the pipeline, and a process for its effective management.
A business developer should use more than relationships and face time with customers to fill the pipeline. Other techniques to jump on new opportunities include monitoring online announcements or subscription-based online sources and databases such as GovWin IQ, BGov, and Govini. Find out from your workforce or even other subs working onsite together with the customer about any issues that customer may have. Meet with the customer to develop requirements and write an unsolicited proposal to add scope to your existing contract vehicle. Advertise your GSA schedule and other Indefinite Delivery Vehicles to add scope to them. Scout current projects for opportunities to write unsolicited proposals. Leverage your workforce and teaming partners to find out about new opportunities. Learn through marketing visits about the urgent need for opportunities that do not require a complex procurement process.  Find prime contractors who have trouble with staffing their contract and offer up your staff to fill vacancies. Network at trade shows and other events. There are plenty of ways to fill your pipeline, don't get too comfortable with just one method.
There are no shortcuts to being successful in capture and business development, even with good relationships. Business development is hard work through relentless research, legwork, adding value to customers over an extended period of time, and systematic approach to managing pursuits. With this type of business development, you are bound to reap high rewards.
Best regards,
Olessia Smotrova-Taylor
President/CEO
OST Global Solutions, Inc.
…Because There is No Second Place in Proposals! TM
https://www.ostglobalsolutions.com
Contact us to learn more.