Waiting for RFPs to drop might be commonplace in our industry, but it's no way to grow a federal contracting business. In our previous blog post, The 3 Biggest Mistakes in the Federal Business Development Process, we emphasize the need to develop team discipline and processes. Your team must also devote time to market research, planning, and brainstorming. In this installment we'll focus on the number one cause of failure:
Too few opportunities in the pipeline to meet growth goals.
It takes a tremendous amount of work and discipline to:
Research opportunities
Qualify opportunities
Make incremental progress engaging with the customer
Gather intelligence
Develop win themes/win strategies
Conduct competitive analysis
Form a winning team
Brainstorm on the solution
Many times, companies aren't submitting enough proposals because they have nothing interesting to bid on.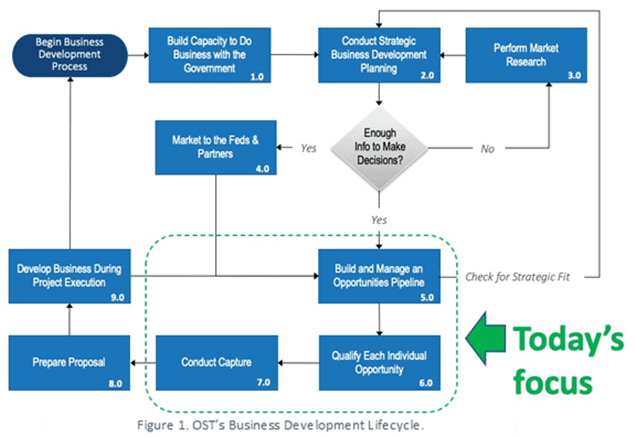 At OST Global Solutions, we've developed a formal business development lifecycle, shown in Figure 1. This blog post will discuss qualifying opportunities and moving them into the Capture Phase to start preparing for the final RFP release.
Let's talk about how to get opportunities into your pipeline and  what to do with them to progress through your pipeline stages.
Your Opportunities Pipeline is the Key to Business Growth
Building and Managing a Pipeline
A quality pipeline is the engine of business growth.  However, many Federal Government contractors struggle to build and maintain a pipeline that meets  their growth goals. You will expend a tremendous amount of time and effort to fill a pipeline with good opportunities for your company and then qualify each one.
During your business development  strategy session (Step 2 in Figure 1), you should set your agency targets, ideal opportunity profile, and growth goals for the year.  These artifacts are very important when sifting through the universe of opportunities available at any given time to bid on.
With your  agency targets and ideal opportunity profile in hand, you can start narrowing your search  of opportunities to:
Specific agencies
Contract values
NAICS codes
Product service codes (PSCs)
Places of performance
Socioeconomic set-aside targets
Contract vehicles/schedules
Your ideal opportunity profile  should list the targets for all of these criteria.  You can start looking for opportunities that look "interesting"  by checking them against your ideal opportunity profile. This first check is called Interested-Not Interested.  You can then enter the opportunities scored as "Interested" into your pipeline tool to be reviewed at the next  pipeline meeting.
Intelligence Tools Speed Up Your Opportunity Vetting Process
There is a lot of paid capture intelligence databases  that can greatly speed up this process. Bloomberg Government,  FedMine, DACIS, GovWin IQ, and  GovTribe  are just a few.  They range in price but can save you  a lot of time.
There are also many  free databases that you can use to search for opportunities. USASpending.gov and Beta.Sam.gov are the primary free opportunity  databases.  USASpending  will allow you to search awarded contract information so you can see when contracts are ending and back out time to allow for the recompete.  Once you have enough opportunities in your pipeline that look interesting, then you have to qualify each one.
1. Qualify Each Individual Opportunity
This stage is mostly skipped unless the company has a full-time business development analyst who is doing the research. The first thing you need to do is find all of the publicly available information, including past solicitation documents, RFI/Sources Sought requests, draft Statements of Work, and industry-day slides.
The second step is to read those documents to see if anything will disqualify you from bidding or if the solicitation looks wired for another company. Then to fully qualify the opportunity you must identify the buyer, establish/understand the need, and determine if the opportunity is funded.
Identify the Buyer. Generally, the buyer is the Contracting Officer because they have a warrant to obligate government dollars. There may be other people within the agency who will have influence on the buying process, which is also useful information to know. For larger contracts, there will be a source selection or technical evaluation panel that will determine which bidder receives the award. However, the Contracting Officer will have the relevant information for qualifying an opportunity.
Establish or Understand the Need. If you identified a buyer but they don't have a need, then you have a contact and not an opportunity. Just because there is a contract in place now for certain products or services doesn't mean the government will buy it again. You need to find out if the government will recompete a specific contract. So you must ask the Contracting Officer if they plan to recompete the target opportunity. Other questions to ask are about acquisition strategy (e.g., what vehicle, set-aside statues), acquisition timeline (i.e., what phase of the acquisition lifecycle are they in?), and if they plan to release a draft RFP or hold industry days. You will research publicly available information prior to contacting the Contracting Officer so you don't waste their time and look like an amateur.
2. Determine if the Opportunity is Funded
Ask the Contracting Officer if the opportunity is funded. Often, the government will release some solicitations for bid without funding and then fund them incrementally as funding becomes available. You must decide if you want to spend the time and money bidding on something that may never provide a return.
The  Contracting Officer may or may not tell you these things, but they are certainly allowed to. Once you have satisfactorily answered these questions, then you can qualify the opportunity and move it into the capture phase.
Managing the Pipeline
On a regular basis, you must hold regular pipeline review meetings with your business development leadership team. Generally, once a week or every other week. The primary focus at these pipeline meetings is to disqualify weak opportunities. So you and your team should be looking for reasons to no-bid. That means if you don't put enough opportunities at the top of the funnel, then there won't be enough opportunities left to bid on.
At these pipeline meetings, whoever puts the opportunity in the pipeline or is qualified for it should present their rationale for why the company should commit resources to pursue it. A key metric for success here is 50% of the opportunities you designate as "Interested" should pass the qualified-not qualified review. We call this Gate 1.
Once opportunities pass Gate 1, then you assign a Capture Manager to the opportunity. Then the Capture Manager will:
Develop a budget for the capture effort and start positioning the company to win the opportunity. BD pipeline review sessions can seem like a chore, especially if they don't seem to be immediately productive. But if leadership or key area managers take themselves out of the process—if they delegate their involvement and cease to be engaged—your BD efforts will likely fizzle out
Bid/No-Bid decisions go to the heart of your firm's mission. It's not always simply a question of what work you can undertake. It's also about leadership's vision for how they want the organization to grow. You must consider which products and services you will develop, along with which business lines you might use the contract to launch or refine.
3. Next Steps
In our next two blog posts, we'll discuss major issues encountered during Capture and Proposal Development Phases.
If you want the best professional training in how to grow your government contract business, check out our Bid & Proposal (B&P) Academy to empower your team to win and grow your company. You can also learn more about our Consulting Services, Registered Apprenticeship Program, and the GovCon Incubator.
Contact us to learn more.