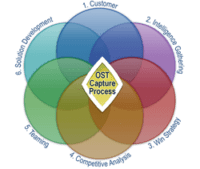 Many companies question whether they can have an outside consultant come in and be their capture manager. They may not have internal resources to run proper capture on a pursuit, but they don't venture outside the house to get anyone else.
In some ways, their doubts are founded. Here are the kinds of tasks a consultant may have a harder time implementing, being an outsider to an organization:
Interface with the customer on the company's behalf: Most companies are uncomfortable sending a consultant unaccompanied with an employee to represent the company at customer meetings. Although a capture consultant could gather information at the meeting effectively, he or she probably couldn't market the company well. Many large companies don't allow consultants to represent them for legal reasons.
Commit the company to team and negotiate a teaming agreement on the company's behalf without internal personnel participating in the process.
Mobilize internal resources: Most consultants coming to a new organization either don't know the company or don't have the authority to request the resources. As time passes and if the company is not very large, the consultant may gain the knowledge of the company but still has to rely on someone within the company to get subject matter experts committed. Do note that many internal capture managers with less seniority in the company will need similar help.
Present a gate review: Gate reviews typically reference company strategy, and are done by company personnel within the chain of command. Although outsiders may be welcome, rarely do they run things. The larger is the company, the more formal are the processes, and the truer is this statement.
To sum it up, in some companies some capture managers can function autonomously and do all of the above without involving any other company resources. Using a capture consultant, on the other hand, may require "shadowing" where a company has to have an employee dedicated to performing the inherently internal tasks.
Here are the kinds of things a capture consultant can do well—and where it makes sense to bring them in:
Developing a capture plan.
Developing a call plan.
Creating an approach to shape an RFP.
Gathering intelligence.
Facilitating win strategy and customer messaging development.
Performing competitive analysis (including the price-to-win and pricing strategy).
Determining which teammates to approach.
Facilitating solution development.
It may initially seem like a duplication of resources to pair a consultant with the internal capture manager, but in reality, the most labor-intensive effort is everything that falls in the "can do well" category. A capture consultant is able to apply innovative techniques that help do things more efficiently. For example, OST's signature approach to win strategy development produces more effective win themes and strategies in half the time it normally takes to develop these. Even if a capture manager is not hired full time, it makes sense to bring in a consultant for targeted sessions like these to get good mileage out of your hard-earned B&P dollars, and increase your probability of winning the bid.
So, the bottom line is, plan to dedicate an internal resource to support a capture consultant, understand the consultant's scope of capabilities, and if your B&P dollars are low, use capture consultants for targeted strategy-related tasks.
Want to learn more about capture techniques that work? Check the Capture Management modules from our comprehensive self-study system called Blueprint for Winning Government Contracts: http://www.ostglobalsolutions.com/training/self-study-courses/government-contracts-blueprint.htm.
P.S.: If you need Business Development, Capture Management, Proposal Management and Writing, Proposal Training Support, or would like to lease a proposal space for the duration of your proposal pursuits, please call us (301) 384-3350 or email service@ostglobalsolutions.com. We have more than 900 fully vetted capture and proposal managers, technical writers, graphic artists, orals coaches, editors, subject matter experts, and other proposal support. We have supported 18 out of the top 20 Federal Contractors and have won $19 Billion since 2005.
Best regards,
OST Global Solutions, Inc.
…Because There is No Second Place in Proposals! TM
https://www.ostglobalsolutions.com
---
Workshops and Seminars
Rockville, MD, or remotely via webcast. Don't miss early bird registration pricing – it ends 3 weeks before each class. Register at https://ostglobalsolutions.com/events/
Contact us to learn more.