The National Aeronautics and Space Administration (NASA) Information Technology Procurement Office has issued a draft Request for Proposals (RFP) for the NASA Consolidated Applications and Platform Services (NCAPS) solicitation. NCAPS will provide enterprise IT and related services for the Office of Chief Information Technology (OCIO), including: information security; application, web, and platform services; information and data analytics; IT services for automation; and IT innovation across NASA's centers.
NASA will issue a final RFP on February 28, with proposals due approximately 30 days afterward, according to the agency's latest posting on SAM.gov. The agency is holding a virtual industry day on January 24 and will hold meetings with potential bidders this week.
The draft requirements include a 30-minute video presentation of a Technical Scenario, a 50-page Mission Suitability volume, and a past performance volume illustrating work of similar size and complexity completed within the past three years.
NCAPS is a competitive acquisition that will result in a requirements-based, hybrid contract that includes Firm-Fixed Price (FFP) Core Services Catalog items, FFP Core Services Labor, Cost Plus Fixed Fee (CPFF) Core Services Labor, Cost-Reimbursement no fee Other Direct Costs (ODCs) and Indefinite Delivery/Indefinite Quantity (IDIQ) task orders. The IDIQ task orders can be either CPFF and/or FFP task orders. Phase-in is FFP. The total potential performance period is eight years, including a 90-day Phase-in (90-day Phase-in, nine-month Base Period, and seven one-year Option Periods).
The North American Industry Classification System (NAICS) code for this acquisition is 541512 – Computer Systems Design Services, and the small business size standard is $30 million.
The anticipated contract award date is October 2023, with phase-in commencing on November 1, 2023. The contract will support all NASA Centers and Facilities.
OST Global Solutions is a professional business development consulting firm. We have experience supporting large, strategic bids like NCAPS. We can provide capture and proposal teams to develop a complete, winning NCAPS proposal, or we can provide consultants on a case-by-case basis to fill gaps on your business development team. Our services related to the NCAPS proposal consist of capture management, win themes, solution development, proposal management, orals coaching, proposal writing, graphics support, editing, desktop publishing, and cost volume development.
Reach out to us to discuss your NCAPS bid, so we can discuss how we can help you develop a winning proposal.
service@ostglobalsolutions.com
Upcoming Bid & Proposal Academy Classes
OST Global Solutions
7361 Calhoun Place, Suite 560, Rockville, MD, United States
Developing a Winning Cost Volume course helps you increase your federal contract win probability. We focus on government contract evaluation, pricing fundamentals such as cost buildup and cost volume elements, price strategy, developing basis of estimate (BOE), coming up with assumptions, Work Breakdown Structure (WBS), cost volume narrative, winning in lowest price technically acceptable proposals (LPTA), and much more. Learn More
OST Global Solutions
7361 Calhoun Place, Suite 560, Rockville, MD, United States
This class covers the spectrum of the most important topics, from preparing for a proposal effort and making a bid-no-bid decision, to orchestrating a great proposal kickoff, driving subject matter experts to produce winning content, exhibiting superb leadership and team management skills, managing conflict, setting the right expectations, optimizing proposal team performance, getting the most from the proposal color reviews, and mitigating proposal risks at every stage to reduce stress and increase your proposal's Pwin. The course also focuses on measuring and improving cost-efficiency and effectiveness of the proposal team. Learn More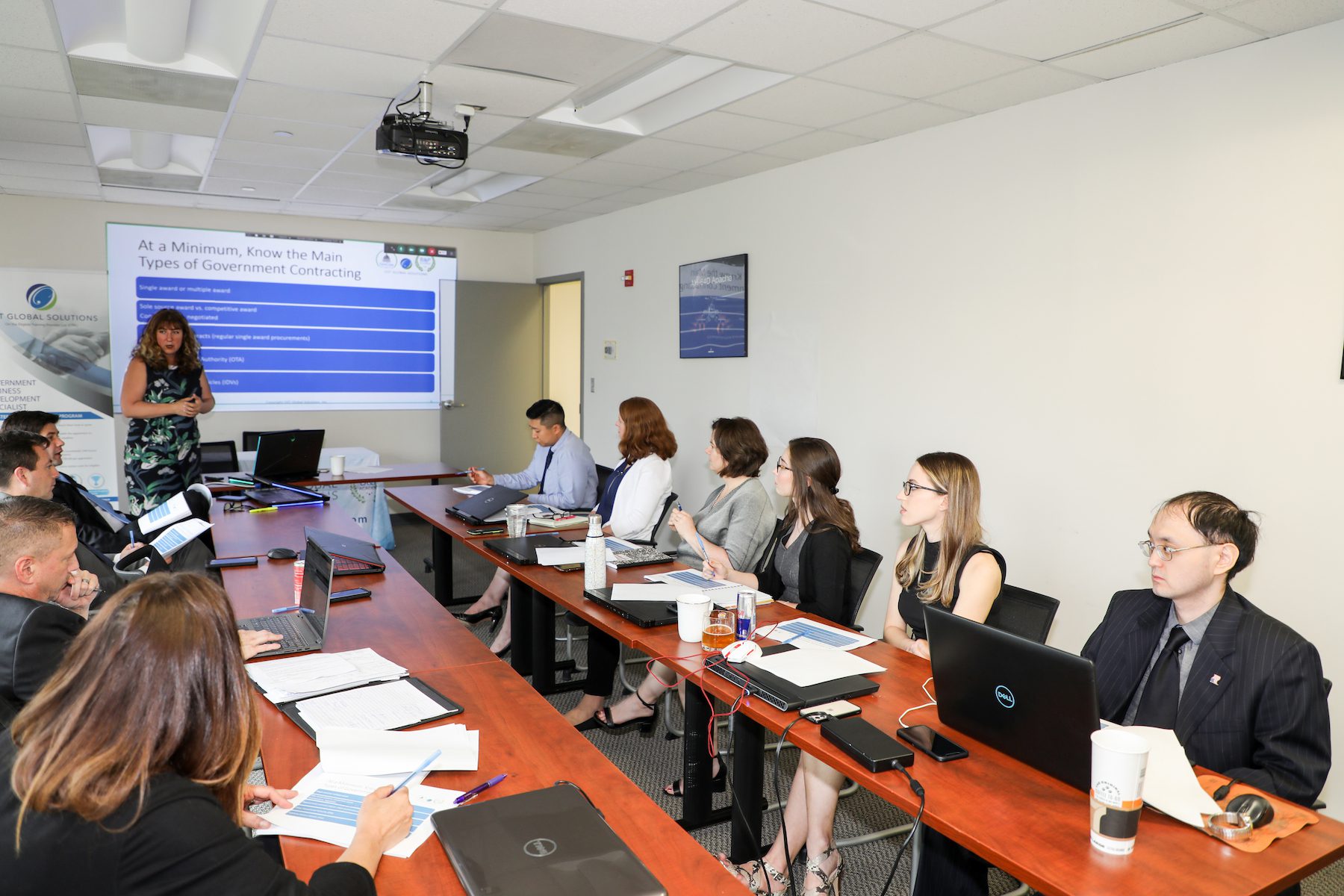 OST Global Solutions
7361 Calhoun Place, Suite 560, Rockville, MD, United States
This Government Business Development training offers essential skills in professional business development for government contractors selling services and solutions to the Federal Government. The two-day course begins with an overview of the Federal business development (BD) process and what it takes to succeed in the profession. It proceeds to the basics of U.S. Government business. Learn More