The Federal Bureau of Investigation (FBI) is seeking contractors for its Information Technology Supplies and Support Services 2nd Generation (ITSSS-2) contract, an IT services vehicle that will provide IT services to the FBI and be available to the broader Department of Justice. This is a follow-on contract to the ITSSS contract, a BPA awarded to 46 contractors in 2010.
Competition for this contract is expected to be aggressive, with an unknown number of final awards and many incumbents with long-term FBI expertise. The FBI ITSSS-2 response effort is anticipated to be an "evidence-based" response, with Past Performance as a critical element in convincing the agency to award the contract.
The Bureau partnered with the General Services Administration (GSA) to create the ITSSS-2 BPA, which is a full and open/unrestricted competition with an estimated value of $5B -$7B.
The FBI seeks a wide range of IT services, including workplace, business application, infrastructure and platform services, and other IT services to support the FBI and the Department of Justice.
The FBI is seeking industry input as it finalizes the draft Request for Proposals (RFP), expected for release on May 15, 2023. An Industry Day is planned for June 7, with a final RFP to follow later that month. The agency issued the following initial proposed schedule:
Draft Solicitation (RFQ) Released: May 15, 2023
Industry Event: June 7, 2023
Release Final RFQ: June 21, 2023
Vendor Questions Due: June 28, 2023
Vendor Responses Due: July 7, 2023
Quotes Due: July 24, 2023
Evaluation Start: July 25, 2023
Evaluation Complete: November 1, 2023
Contract Award: December 11, 2023
Market Research available last May indicated that the performance areas of ITSSS2 could include the following areas:
Workplace Solution/Services
Business Application Solution/Services
Delivery Solutions/Services
Platform Solutions/Services
Infrastructure Solutions/Services
Emerging Technologies
Other IT Solutions/Services
Positioning Your Team to Win
The FBI is actively seeking industry input to shape the next version of this solicitation, so the time to perform capture and position your team to win is now. Vendors considering a bid are encouraged to submit questions, comments, and ideas about ITSSS2 to the Bureau at ITSSS2@fbi.gov.
Interested bidders should also start identifying their potential proposal team and begin the staffing process to onboard any third-party proposal specialists. These could be Past Performance writers and others with an emphasis on Technical and Management Volumes. If you are not among the current vendors on the FBI's original ITSSS vehicle, consider a third-party Price-to-Win (PTW) effort to ensure your pricing is competitive. Given the breadth of services, there will no doubt be numerous labor categories to be priced, and an outside PTW will most likely have a broader set of data with which to work.
OST Global Solutions is a professional business development consulting firm. We have experience winning large, strategic bids like ITSSS2. We can provide capture and proposal teams to develop a complete, winning proposal. Or we can provide consultants on a case-by-case basis to fill gaps on your business development team. Our services related to ITSSS2 consist of capture management, cost volume development, price-to-win analysis, team identification/negotiation, proposal management, proposal writing, editing, graphics, and desktop publishing.
Contact us to discuss your bids, so we can help you develop a winning proposal.
service@ostglobalsolutions.com
Upcoming Bid & Proposal Academy Classes
OST Global Solutions
7361 Calhoun Place, Suite 560, Rockville, MD, United States
Developing a Winning Cost Volume course helps you increase your federal contract win probability. We focus on government contract evaluation, pricing fundamentals such as cost buildup and cost volume elements, price strategy, developing basis of estimate (BOE), coming up with assumptions, Work Breakdown Structure (WBS), cost volume narrative, winning in lowest price technically acceptable proposals (LPTA), and much more. Learn More
OST Global Solutions
7361 Calhoun Place, Suite 560, Rockville, MD, United States
This class covers the spectrum of the most important topics, from preparing for a proposal effort and making a bid-no-bid decision, to orchestrating a great proposal kickoff, driving subject matter experts to produce winning content, exhibiting superb leadership and team management skills, managing conflict, setting the right expectations, optimizing proposal team performance, getting the most from the proposal color reviews, and mitigating proposal risks at every stage to reduce stress and increase your proposal's Pwin. The course also focuses on measuring and improving cost-efficiency and effectiveness of the proposal team. Learn More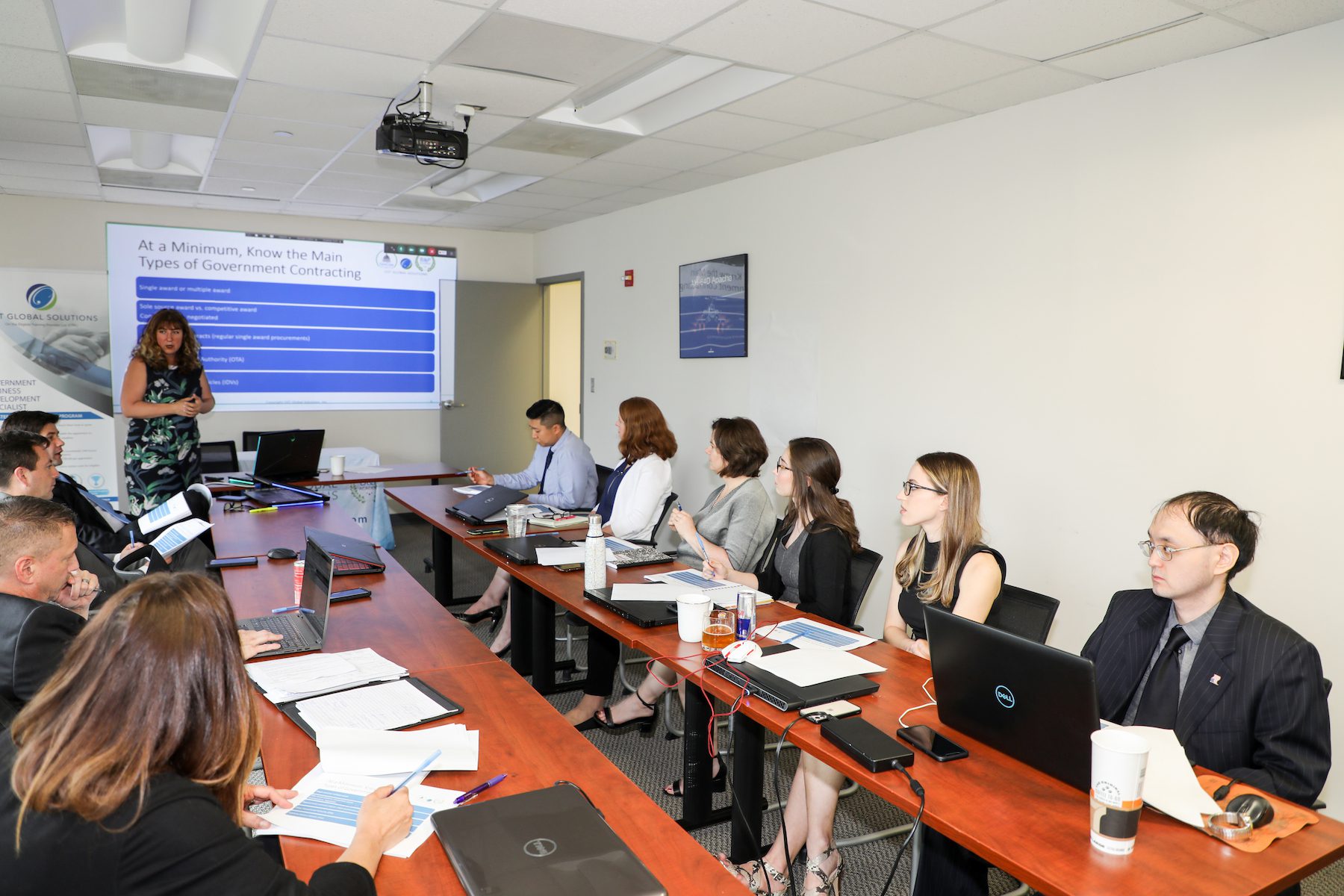 OST Global Solutions
7361 Calhoun Place, Suite 560, Rockville, MD, United States
This Government Business Development training offers essential skills in professional business development for government contractors selling services and solutions to the Federal Government. The two-day course begins with an overview of the Federal business development (BD) process and what it takes to succeed in the profession. It proceeds to the basics of U.S. Government business. Learn More