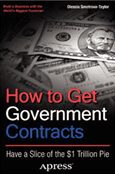 I wanted to let you know that my book, How to Get Government Contracts: Have a Slice of a $1 Trillion Pie, is finally out on Amazon. It is published by Apress, a division of Springer, the world's largest publisher of professional development books.
The book covers the full lifecycle of business development in detail. It shows how to use a replicable system to achieve the triple-digit growth rates that fastest-growing companies in the government market boast, through intelligent capture and proposal development. It offers methodologies, checklists, and explanations of the professional-grade tools – all relayed in a simple, friendly, and easy-to-digest way. It will help you evaluate the market and determine your strategy and offer a clear roadmap for finding and connecting with the right federal customers, running successful capture pursuits to position your team ahead of the competition, writing winning proposals, and implementing measures to enable you to grow aggressively beyond the first few successes. This way your company will get a slice of a trillion-dollar pie, instead of the mere crumbs, adding millions to your annual revenue stream.
This book will be especially useful for your professional development and growth to get a full view of what it takes to deliver winning results – to round yourself out as a proposal professional.
Oh, and you can get this book on your Kindle as well: http://www.amazon.com/How-Get-Government-Contracts-Trillion/dp/1430244976/ref=pd_rhf_cr_p_img_2.
If you like the book and would recommend it to your colleagues, please, write a review on Amazon.
P.S.: If you need Business Development, Capture Management, Proposal Management and Writing, Proposal Training Support, or rent a Proposal Office Space, please call us (301) 384-3350 or email service@ostglobalsolutions.com. We have more than 900 fully vetted capture and proposal managers, technical writers, graphic artists, orals coaches, editors, subject matter experts, and other proposal support. We have supported 18 out of the top 20 Federal Contractors and have won $19 Billion since 2005.
Best,
Olessia Smotrova-Taylor, AF.APMP
President/CEO
OST Global Solutions, Inc.
…Because There is No Second Place in Proposals! TM
Contact us to learn more.