"Without continual growth and progress, such words as improvement, achievement, and success have no meaning." –Benjamin Franklin
Why does quality matter and improve Pwin in your response to a government RFP (request for proposal)? It's fairly common knowledge among proposal professionals, but the customer considers your proposal quality to be reflective of your solution's quality. If you can't be bothered to submit a high-quality proposal, perfectly tailored to your government customer's requirements and environment, why should they take a leap of faith that your solution will be better?
Your proposal quality shows the government your attention to detail, and how important you consider them to be. Improve your win probability (Pwin) by changing your organization's business development culture and focusing on winning with your proposals instead of just completing them.
Considering Reusing Your Previous Proposal? Don't Do It
Copying and pasting feels as it saves you resources, but if it doesn't improve your Pwin (it actually lowers it), then why do it?
With that said, you can reuse some sections of your proposals as long as they are tailored for to the customer, such as:
Plan templates (i.e. subcontractor plans, quality assurance plans)
Branded methodology, modified for the customer
Your commercial off the shelf (COTS) product descriptions (but how they integrate into a solution may vary among your customers)
"As long as they are tailored" is the key phrase here. Submitting a copy and paste quality assurance plan that isn't tailored to the project will be ineffective, to say the least.
You should always custom-develop the other sections of your proposal based on the specific government customer's needs. With federal proposals, this is a key to your success.
Improve Pwin & Speed Up The Development of Proposals for Government RFP's
Although you may be tossing out the copy and paste method, rest assured knowing there are ways to speed up quality proposal development. One of those ways is focusing on setting up a better brainstorming framework. When you have a framework in place, you save resources and generate expertly tailored content. You can read more about refining your technical approach in this blog post we wrote.
Another great resource for proposal development, the first video and blog post in our Improving Your Government Proposals' Pwin series, focuses on a proper proposal quality review process and benchmarking your federal proposals against the industry's best practices.
Focus on Producing a Win for the Government Contract, Not Just Meeting the Proposal Deadline
In terms of organizational culture, work towards winning a government proposal versus completing one. Don't just run it through the process and complete all the sections on time. When you focus on submitting a proposal by the deadline your goal is just to get it out the door. Unfortunately, quality tends to go out the door too; it's not the main focus of your proposal. It may be incidental because you luck out with the subject matter experts (SME's) and good reviewers, but you haven't built it into your process.
The deadline definitely commands some importance, since the customer rejects late proposal submissions. However,  you can't make it your primary goal.
When you focus on winning your proposal, it changes the entire process. Ensure that your capture and proposal managers have a winning mindset, instead of being the so-called "process tsars".   When your proposal team focuses on winning instead of just merely producing proposal text in response to the requirements, you'll see the difference. The resultant products will inspire the government customer to award the contracts to you more often.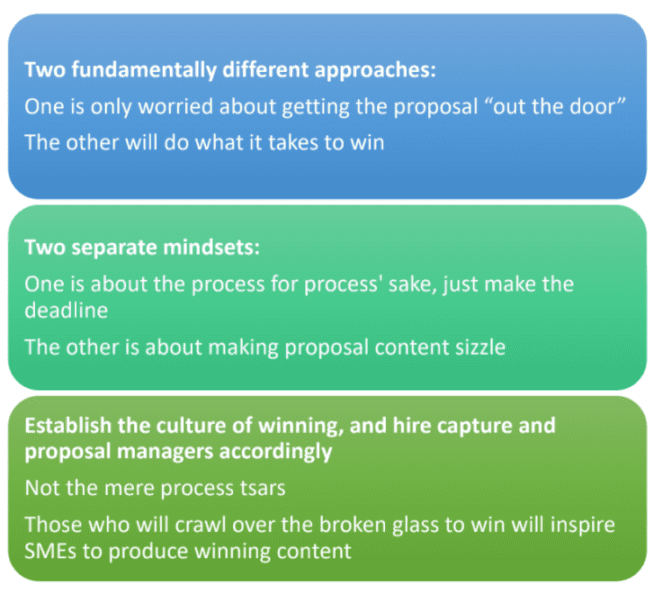 We distinguish between two fundamentally different approaches to government proposals: one focuses in getting the proposal out the door, the other focuses on whatever it takes to win in response to an RFP.
Invest Enough Proposal Resources to Win
If you want to win government contracts consistently, you need to view proposal development as an investment. You should expect to invest ¾ to 1 ½ of a percent of the proposed contract value in capture and proposal management. It sounds imposing, but the return on your investment (ROI) is huge with those multimillion-dollar wins.
Set the Right Expectations for Business Development and Operations Personnel of Your Company
Make sure your operations staff knows the government customer, and your SME 's participate in the brainstorming and proposal development processes. When you don't have the right SME's working on your content, your Pwin will go down significantly. Your proposal manager shouldn't be the one expected to make up the proposal content unless they happen to be an expert.
So set the expectation for your proposal team that they will more than likely need to work nights and weekends in order to create the best proposals possible, especially if they have "day jobs" at the government customer's site.
Looking outside of your organization, you will require a matrix of qualified resources early on. You need to do this in a methodical and detailed manner. For example, for every technical section, you should note down to the subsection level exactly which of your or your subcontractor's SMEs is fulfilling that aspect of the proposal. All "To Be Determined" (TBD) should be resolved for section assignments by the proposal kickoff date.
Make sure to include resource commitments in your teaming agreements from the beginning. This will ensure that you aren't scrambling while the proposal deadline is looming. If you don't agree on specific SMEs and resources in advance with your teaming partners, you probably won't get what you need as you're barreling towards a deadline.
Require Continuous Focus on Business Development for Your Project Personnel and Others in Your Organization
You can transform your organization's business development culture into one that is ongoing and proactive instead of wandering in circles. Everyone, even your finance, and human resources personnel should get business development training, specifically for federal government capture and proposals. Federal business development is a profession and it won't happen by accident or default. You have to give people the skills to be able to contribute meaningfully to your company's growth.
Continuously investing in training for your government business development personnel, and even your project personnel and other company staff is essential to winning government contracts.
Many companies don't invest in training and consequently must settle for low win rates.
A Historical Example of the Importance of Training
The Vietnam War provides a great example of just how essential training is to any organization. In 1969, the U.S. pilot kill ratio was 1.5:1. In plain words: for every 1.5 Vietnamese pilots we shot down, we also lost one pilot to the enemy. The U.S. Air Force conducted a study and determined that their pilots needed better technology, while the U.S. Navy study concluded that pilots needed better training.
By 1972, it was obvious which line of thinking was more effective. The Air Force finished the war with the same ratio, 1.5:1. However, the Navy finished with an impressive ratio of 12:1.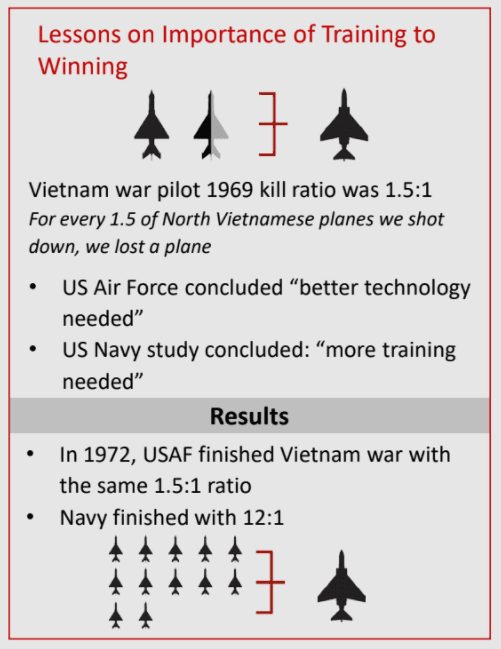 Better trained Navy pilots lost only one airplane for every 12 they shot down in the Vietnam war. The Air Force pilots, with better technology, lost the exact same number of planes as at the beginning of the war. This is a famous case study in favor of training that's relevant to the world of government proposals.
When you avoid spending a few thousand dollars and a few business days on government business development training for your company, essentially you're choosing to leave millions of dollars in federal contracts out there for your competitors to win.
Additionally, while you establish a high standard for business development through high-caliber training, you should properly incentivize your company's staff. By giving up their nights and weekends, and family time, they're investing in growing your company. Proper recognition and incentives (be that bonuses, time off, or other rewards) will motivate them.
You don't have to settle for a below-average win probability. We've filled our Bid & Proposal   Academy with the sort of business development training that will drive your Pwin as high as you want to take it.
Drive Your Organization's Success
When business development is a priority in your organization, everyone makes better decisions. From hiring decisions to organizational initiatives, everything becomes geared towards your company's success. Don't sequester business development at the top. Share the load with your operational personnel. By setting the expectation early that they will participate in business development, your entire workforce turns into your sales force.
How to Have an Impact if You Aren't in a Decision-Making Position
Perhaps you're watching this video and thinking "Yeah, but I'm not in a position to make these sorts of decisions…". You still have an opportunity to create a change in your company's business development culture. It will require some internal selling to your leadership on your part.
If you present a vision of how successful your company could be if you implemented business development properly, your leadership will be intrigued. Implementing the initiatives, documenting the metrics, and showing ROI (such as raising your Pwin by a certain percentage) is sure to make an impression on your management. This is a great way to get promoted within your organization, or, if your initiatives go unappreciated, get an even higher paying job within a new organization.
Let's conclude with a simple metaphor. Your client has their choice of five meals prepared by your company and four others.  They  can only pick one for dinner. They may only pick by smelling and looking at the meals, they can't taste any of them prior to choosing. Your meal might taste amazing, but if you can't give it an alluring smell and delightful appearance, they'll pick a meal that does.
You can see drastic increases in your proposals' Pwin by changing your proposal team's mindset to winning. When your proposal meets the deadline but lacks quality tailored content, your company more than likely squandered valuable resources.
Don't forget, this article is the second in a series of seven. Subscribe to OST's Turbo Charging Growth Newsletter, if you haven't already, to make sure you don't miss the other five methods of improving your government proposals' Pwin.
Do you think your organization does something particularly well with regard to business development? What about an area for improvement? Let us know both in the comments.
Contact us to learn more.