On Wednesday, June 8, learn about the tools, technology, and industry experts that leading government contractors are leveraging to better position themselves to win major contract vehicles, like Services MAC, as well as how they're using these modern technologies to find and pursue business on the contract vehicles they've already won.
The webinar is a collaboration between OST Global Solutions and TechnoMile, will provide:
An update on Services MAC and how your organization can apply modern tools and technology to increase your probability of winning.
Information on how IDIQ, GWAC, and capture teams can more rapidly identify the right task orders to pursue and increase their efficiency.
Information on how to leverage market intelligence tools to evaluate potential partners and determine the best teaming strategy based on past performance and other key criteria.
You can register for the webinar here.
David Huff, Partner at OST Global Solutions, will serve as a panelist in the webinar. He will join TechnoMile's Kevin Brancato, Senior Vice President of Product Strategy, and Steve Koester, Product Business Analyst. Helene Johnson, TechnoMile's Chief Value Officer, will moderate the panel.
The General Service Administration's Services MAC will replace GSA's One Acquisition Solution for Integrated Services (OASIS) Contract, one of the agency's most successful vehicles accounting for $35 billion in obligations.
GSA intends to solicit and award separate Indefinite Delivery Indefinite Quantity (IDIQ) contracts designated under the following categories:
8(a) Small Business
HUBZone Small Business
Service-Disabled Veteran-Owned Small Business
Total Small Business
Woman-Owned Small Business
Unrestricted
GSA also announced in March that it plans to organize the Services MAC contract program by Domains — functional groupings of services spanning multiple NAICS codes. The first Domains GSA plans to award include:
Management and Advisory
Technical and Engineering
Research and Development
Intelligence Services
Enterprise Solutions
Environmental Services
Facilities
Logistics
Additional Domains will be prioritized and introduced by GSA "in close coordination with stakeholders and supported by market research," according to an agency update in December 2021.
GSA's draft evaluation strategy for Services MAC includes a past performance of at least three qualifying projects with an annual value that exceeds $250,000. Each qualifying project must have some portion of direct labor performed within the past five years from the date the solicitation closes, have an average score of greater than 3.0 on the Contractor Performance Assessment Report (CPAR), and have 4 evaluation credits for each relevant project.
Bidders can view the criteria for these evaluation credits through GSA's Qualification Matrix for Services MAC.
Bidders can view a draft Statement of Work/Section C at the Services MAC Community of Interest at GSA Interact. Additional draft sections of the Request for Proposals (RFP) will be issued in the coming months as GSA seeks feedback from industry on how to shape the RFP. OASIS will officially expire in 2024.
Click here to register: https://www.govconwire.com/events/event/modern-tools-to-win-bic-mac-and-other-contract-vehicles-simplify-task-order-ma/
OST Global Solutions is a professional business development consulting firm. We provide capture and proposal teams to develop winning proposals. Or we can provide consultants on a case-by-case basis to fill gaps on your business development team, including running your color team reviews. Our services consist of capture management, proposal management, orals coaching, proposal writing, graphics support, editing, desktop publishing, and cost volume development.
service@ostglobalsolutions.com
Upcoming Bid & Proposal Academy Classes
OST Global Solutions
7361 Calhoun Place, Suite 560, Rockville, MD, United States
Developing a Winning Cost Volume course helps you increase your federal contract win probability. We focus on government contract evaluation, pricing fundamentals such as cost buildup and cost volume elements, price strategy, developing basis of estimate (BOE), coming up with assumptions, Work Breakdown Structure (WBS), cost volume narrative, winning in lowest price technically acceptable proposals (LPTA), and much more. Learn More
OST Global Solutions
7361 Calhoun Place, Suite 560, Rockville, MD, United States
This class covers the spectrum of the most important topics, from preparing for a proposal effort and making a bid-no-bid decision, to orchestrating a great proposal kickoff, driving subject matter experts to produce winning content, exhibiting superb leadership and team management skills, managing conflict, setting the right expectations, optimizing proposal team performance, getting the most from the proposal color reviews, and mitigating proposal risks at every stage to reduce stress and increase your proposal's Pwin. The course also focuses on measuring and improving cost-efficiency and effectiveness of the proposal team. Learn More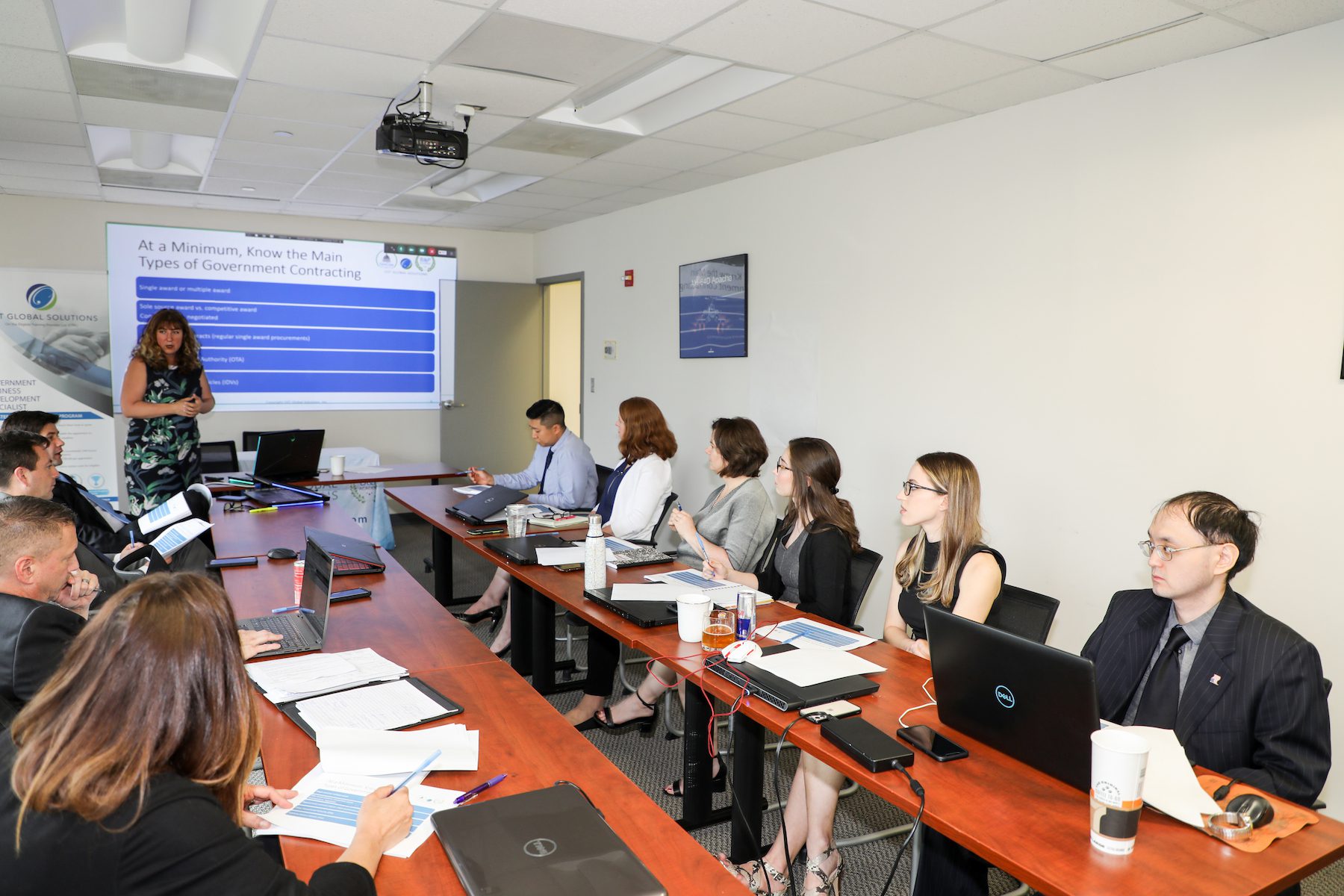 OST Global Solutions
7361 Calhoun Place, Suite 560, Rockville, MD, United States
This Government Business Development training offers essential skills in professional business development for government contractors selling services and solutions to the Federal Government. The two-day course begins with an overview of the Federal business development (BD) process and what it takes to succeed in the profession. It proceeds to the basics of U.S. Government business. Learn More