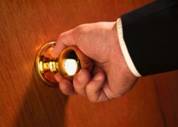 Let's discuss some strategies for penetrating the market that you can realistically employ if you don't already have extensive government connections, starting with the easiest and ending with the most difficult entry method:
Start with being a subcontractor to an established government contractor. Because you don't have past performance yet, you might only be as valuable as your own and your colleagues' resumes. According to the government rules, your resume and the projects you have participated in while supporting the government (even when it was with another company) will count as your company's past performance if it's a brand new entity. When you "shop" for a prime contractor, it might be all about selling yourself to them, rather than promoting your company, which doesn't yet have any credentials. The trick is to resist simply being brought onboard as a W-2 employee of the prime contractor and make sure your company gets the credit for the work completed. You'll also want to confirm that you will get past performance references from your prime contractor because some primes don't provide references for past performance as a matter of policy.
Go after state and local government contracts, which will count as government past performance. These are a bit easier to get than federal contracts when you are just starting out, especially if you have the right relationships, and your overhead is low, leading to the lower prices state and local governments universally favor. The right relationships matter in state and local governments a lot more than in the federal market, although you cannot discount them anywhere.
Start with smaller contracts under the SAT in your area of expertise and grow them into bigger opportunities. For micro-purchases, the level of the required justification is low, and once you have done your job, you will have delivered a government contract successfully. This will allow you to gradually grow your ability to get prime contracts. If you make it easier to buy from you by getting a GSA schedule at this point, you could put yourself at a slight advantage.
Become a subcontractor on a multiple-award vehicle. In these situations, some primes are not as picky about selecting teammates and might bring you on board regardless of your lack of experience. You can then drive some task order work your way.
Create a joint venture with someone you know well and use their past performance as your past performance.
Before you do all this, though, you will need to make sure that you find the customers who are perfect for what you have to offer.
Many companies start by sitting down and creating a long laundry list of every possible service and product they can offer to the government and then finding a NAICS code to match every item on that list. Go ahead and take an excursion to FedBizOpps. Put in a keyword that matches your area of expertise. Click on any larger-dollar opportunity and check the Interested Vendors tab. You are likely to find companies that list every NAICS code under the sun after their name. They always look suspicious, unfocused, and, quite frankly, small.
It is very tempting to claim to be omnivorous. I was once in a business planning session for a startup where the owners listed everything as their core capabilities that they had ever done or even thought about. Once I forced them to dig a bit further, it turned out they didn't even know the basic terminology in many of the fields that they listed. After some debate, in which they fought me by arguing that they had more chances if they spread the net wider, they agreed to focus on three areas of expertise. Even those three areas were too many, as they weren't mutually supportive or related, but this was a way to compromise at the time. Later on, the company ended up doing only one thing and branching out subsequently into some areas that weren't even on the initial laundry list.
If you need a clear strategy to take your company to the next level of growth, you would like to get your win rate up or are in need of a robust pipeline of opportunities in your sweet spot to make sure you bid and win more, we can assist with jump-starting and sustaining your growth in the federal market. Outsource your Business Development to our experts and find government contracting opportunities in your core competency areas. Contact us so we can help your business gain a foundation for a robust bid engine that will fuel your growth for years to come. Learn more at www.ostglobalsolutions.com/federal-business-development
Unless your organization has extensive government connections, it can be difficult to gain a foothold in the federal market as a contractor; especially if your organization does not have the necessary past performance and you are entering into an unfamiliar environment. The article below describes the strategies that can be employed to penetrate the federal market, ranging from the easiest to the most difficult, and the tips on how to focus your areas of expertise on the customers that are the best fit. Before we delve into the article though, please check out a couple of announcements that you might find very useful:
Advanced Proposal Managementclass on July 18-19, 2013 will teach you the advanced skills of proposal management, allowing you to expand your abilities through best practices-based methodologies, and the tool sets for immediate effective implementation.
Developing a Winning Cost Volume workshop on July 16-17, 2013, will give you the latest best practices and techniques for dominating your competition in the cost volume.
Learn more or register for these classes at: www.ostglobalsolutions.com/training/schedule
P.S.: If you need business development, capture management, proposal management and writing, or onsite proposal training support using OST's proprietary methodologies, contact us (301) 384-3350 or email service@ostglobalsolutions.com. We have supported 18 out of the top 20 Federal Contractors and have won $19 Billion for our clients not counting the IDIQ ceiling values. We are here to help you to solve your proposal resource problems in a pinch!
Best regards,
OST Global Solutions, Inc.
…Because There is No Second Place in Proposals! TM
https://www.ostglobalsolutions.com
Contact us to learn more.