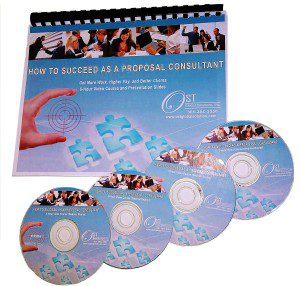 Get More Work, Higher Pay, and Better Clients
Instantly Downloadable 5-Hour Video Course and Slides (Webinar Replay)
This four-class video course with more than 5 hours of material shows you how to succeed as a consultant in the field of capture management, proposal management and coordination, proposal writing, graphics, desktop publishing, editing, orals coaching, and related proposal professions.
This course is for those who:
Are considering quitting their full-time job and becoming a proposal consultant.
Have recently started in the consulting field and would like to speed up the learning.
May have been in the field for a while but are not getting the results they want.
Many proposal consultants often undervalue their services, settle for lower compensation for fear of the unknown, face treatment as if they were a commodity, and let more time elapse between jobs than necessary.
Yet, there has been no course or book a proposal consultant could go through on how to overcome these problems. Everyone has been learning by making their own mistakes. Until now. Our course is chockfull of information vital in the proposal consulting field. Below you can find course topics for each session:
 SESSION 1 highlights
Roadmap to successful proposal consulting.
Pros and cons of consulting versus working for a company.
How to start your consulting business and make the transition from a full-time job to consulting easier.
How to set your rates (and what are the going rates in the industry for your type of work).
How to determine your marketable skill sets, regardless of whether you are just starting out or have been a consultant for a while.
10 ways of billing clients.
The secrets for finding work, quickly.
How to plan for, negotiate, or even avoid traveling for your consulting jobs.
What are the IRS rules about consultants and how "what you don't know" will hurt you.
How to set up your own insurance, benefits, and other necessities.
The skinny on proposal companies brokering independent consultants.
The pros and cons of working with a broker versus working directly with companies.
The ins and outs of negotiating contracts.
How to avoid being bogged down in the busy work of bookkeeping, invoicing, and other business tasks.
What tools and technology will make your life easier.
Strategies for growing your consulting business.
SESSION 2 highlights
Common marketing mistakes most consultants make.
How to market effectively on a tight budget using social networking, public relations, sales calls, and other techniques.
Essential collateral and credentials you have to develop to get better jobs and higher rates.
How to expand your marketable skills.
The skinny on win rates.
How to determine if you need a web site – and how to set up and manage a web site inexpensively.
How to ensure your prospective customers can find you on Google.
How to leverage article marketing and other low-cost marketing activities.
An important technique that will enable you to plan better, get more clients, and stop worrying about getting your next job.
SESSION 3 highlights
How to avoid undercharging for your services.
3 most common problems that lead to low rates.
Signs of unhealthy relationship with rates.
5 proven techniques for getting your rates up.
How to negotiate better.
Consultant's ethics and code of conduct.
How to handle difficult clients.
How to prevent clients questioning your charges, disputing your bills, or paying late or not at all.
How to handle overlapping assignments where you have to juggle multiple. proposals, calls from multiple brokers, and periods of drought.
SESSION 4
Q&A session that delves into the topics above in greater depth.
Price: $147

For additional questions: please call (301) 384-3350 during normal business hours. If you'd like to pay by invoice, please email us. (NOTE: we will ship the product or send the downloadable link after we receive payment.)
"I wanted to take a moment to say thank you for your webinar today. I have been in the industry for a few years now, but am just starting to really increase my knowledge and find my niche. The information you shared today is invaluable! I will be using it as a reference for many years to come, I'm sure. Being so young, it is sometimes difficult to prove myself in an industry filled with very experienced individuals. I have found that being confident in my knowledge is a key to success. Your webinars and resources have gone a long way in helping me achieve further understanding."
Meryl Pikett, Program/Account Manager, Columbus Technologies and Services.
"This is the fourth class I've taken from Olessia and she never disappoints. Her material is always very well thought out and organized. She has a very personable and relaxed demeanor that immediately sets you at ease, even if you are brand new to the subject matter. She provides clear and concise answers to your questions and if she's not able to answer a question immediately, she researches it and updates you as soon as she can (usually the next class)."
Hawlii Allinson, Partnet
"There really wasn't anything not to like about this webinar. It was incredibly informative, even for someone who has been quite successful in the field for almost 20 years. It immediately proved the usefulness of methods for finding additional work from the first session and I would certainly recommend it to anyone who is either already consulting in the field or considering it, something I've always encouraged talented employees to at least consider."
Sandra Dickerson, Proposal Desktop Publishing Specialist, Able Support Services.
Contact us to learn more.