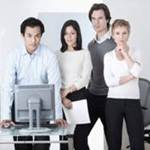 You might start as one person who is responsible for winning government contracts. This is not a problem—you can join the ranks of many who have started at one point or another and are still the only one writing proposals, even as their company has grown to a nice size and they have the capital to afford professionals. I once met the CEO of a 1,200-person business who still was the company's best proposal writer—he had a 99 percent win rate. (He'd lock himself in a hotel room for a week at a time with a few six packs.) It was possible because the company was focused on a single set of offerings and wrote for the same set of customers.
Many companies reach a point at which they have to start maturing and growing their business development, capture, and proposal capability. It usually happens when they have a constant volume of bids and they are looking for a more efficient way to develop proposals and win consistently. They want to scale up, grow aggressively, and create a true business development engine.
If you are a small company, the next phase of the business development team, beyond just you, could consist of one or two people, with technical personnel roped in as needed for subject matter expertise. This formula works when this team has to go after a handful of bids a year, but as you start growing aggressively and you need to crank out four, five, or ten proposals a month, you have to figure out how to scale intelligently. At that point you will need personnel—employees or consultants—that will include the following types of professionals:
• Business developer (also called account manager or account lead) to identify customers, foster and maintain trusting customer relationships, and find government contracting opportunities.
• Capture manager to chase each opportunity after the business developer hands it over, to increase your probability of winning it, and to do all the pre-proposal preparation — before the official request for proposal (RFP) ever hits the street.
• Proposal manager to run your proposal document development like a project—because proposals are so complex that it might take a whole team to put a winning offer together.
• Proposal coordinator to run your smaller proposal efforts, or to help the proposal manager run larger ones.
• Proposal writer to write and edit proposal sections, while working closely with the subject matter experts who have the knowledge of all the technical details but aren't necessarily the best writers.
• Graphic artist to develop your graphic concepts into professional-looking, attractive graphics that will make your proposals easy to understand.
• Editor to ensure your proposals are error-free and polished.
• Desktop publisher to format your documents for a professional appearance.
• Price-to-win expert to figure out what price your competitors might offer—and what price you should offer to beat them.
• Price strategist to develop the strategy to get to the price-to-win number.
• Pricer and estimator to support the cost proposal development effort.
• Subject matter experts, most likely your project personnel who bill directly to the government, pulled away from their regular work to provide specialized subject matter expertise for developing technical and management solutions.
• Contracts manager who will make sure that you comply with all the contractual language consistent with the FAR, and who might even negotiate your teaming agreements with the subcontractors.
• Recruiter who will quickly identify personnel and get their resumes and commitment to bid on your proposals.
• Orals coach to train your team on how to create and deliver winning presentations, if you target customers who favor orals and demos.
• Management team or executive (at a director or vice-president level) to oversee all the personnel and make sure that you are juggling your resources appropriately, and also to implement all the other aspects of business development.
As you can see, it takes many types of proposal professionals to help you win consistently. Don't despair. Most highly successful government contracting businesses started small—with one person wearing all of the hats and fulfilling all the roles. It will be up to you, as you grow, to know when to gradually add others to the team—to avoid burning out yourself and others.
P.S.: If you need Business Development, capture management, proposal management and writing, or onsite proposal training support using OST's proprietary methodologies, contact us (301) 384-3350 or email service@ostglobalsolutions.com. We have supported 18 out of the top 20 Federal Contractors and have won $19 Billion for our clients not counting the IDIQ ceiling values. We are here to help you to solve your proposal resource problems in a pinch!
Best regards,
OST Global Solutions, Inc.
…Because There is No Second Place in Proposals! TM
https://www.ostglobalsolutions.com
Contact us to learn more.