Federal contracting can be a profitable and dynamic business. Not to mention there can be advantages to being a small business in the federal contracting market. The government aims to award at least 23% of prime contracting dollars to small businesses. In the last fiscal year, that amounted to approximately $110 billion.  Win Federal contracts by improving your business development.
However, more and more small businesses struggle to build their companies to a consistent level of success. Some companies never make it past winning their first one or two contracts. Why is that? Based on our years of experience, there are two main causes:
Small businesses don't consistently perform in business development, either because they don't know how, or they believe they don't have the time or money.
They also don't realize how critical consistent business development is to their company's survival.
So we're continuing our two-part series "Win Government Contracts By Improving Your Business Development." This series is based on an old video from our archives so some of the references may be dated. However, the principles are still relevant.
If you missed it, you can read part one here: Win Government Contracts By Improving Your Business Development Part 1.
The Federal Business Development Cycle
Building Capacity to do Business with the Government
Strategic Planning
Market Research
Pipeline Development
Opportunity Identification
Marketing
Capture Management
Proposal Management
Performing BD during Project Execution
Stage 7: Capture Management
After you identify some opportunities, you enter a stage called capture or capture management. Capture management is a discipline in its own right. We consider it the most important set of activities you can accomplish to secure a contract. In order to consistently win business, the Association of Proposal Management Professionals (APMP) determined that you should spend 60% of your budget on capture, 30% on proposal development, and 10% on post-submission activities. APMP polled a number of successful contracting companies with win rates around 70%, and on average they spent 60% of their budget on an opportunity prior to the Request for Proposal (RFP).
Isn't Capture Just Building a Customer Relationship, and Preparing a Capture Plan?
There is much more to capture. You must take multiple steps that build one upon another during capture planning and management. We see consistent results when companies use our methodology, briefly detailed below.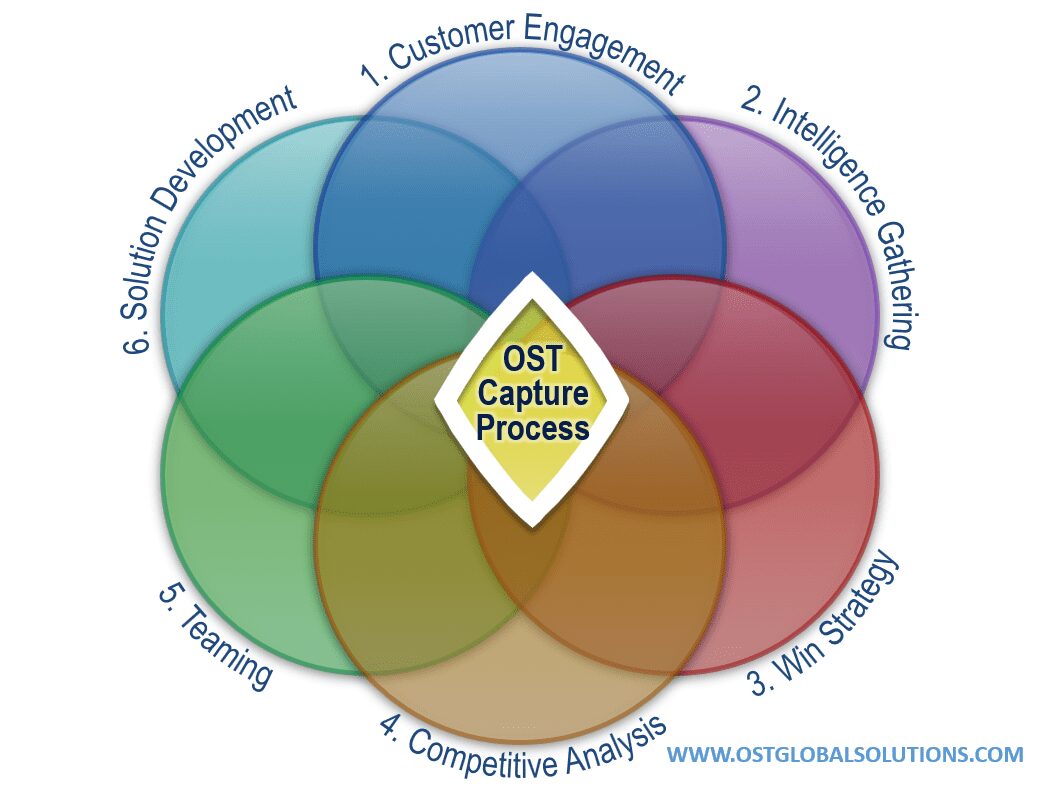 OST's Steps for Successful Capture Management
1. Customer Engagement:
You want to cultivate the role of a "trusted advisor" here. You and your BD/capture team should develop a contact plan using primarily phone calls and visits. Don't focus on one individual; you must develop as many relationships as possible throughout the agency. In case of a turnover, you could invest all of your time in one agency relationship only to have that person move to a new position or agency (or retire).
2. Intelligence Gathering:
You will conduct thorough research in an effort to build the most complete picture possible of the customer, opportunity, and competition. You should document not only your raw information (web page addresses, customer artifacts, and notes), but also the insights you draw from that data. Intelligence gathering actually pervades and informs the entire capture process because "the best-informed wins!"
3. Win Strategy:
Win strategy is a set of win themes and action items that outline how you will win the opportunity. A win strategy identifies the top-level actions that will help your offering stand head and shoulders above the rest.
4. Competitive Analysis:
There is an extensive process you need to go through to analyze the competition in the context of the bid and customer. This includes Black Hat and Price to Win analysis. This is the stage where you figure out how to beat your competitors.
5. Teaming:
If you are not going after the opportunity alone, you'll need to have your team in place well before the RFP comes out; that's why it's a part of the capture. If you wait until the RFP is issued, all of the best potential partners will be taken. There are also many rules for teams, and if you don't follow them, your proposal could be considered invalid.  You need to select the right teaming strategy – and decide whether you are going to:
Prime the contract,
Subcontract to someone else, for a joint venture,
Or create a Contractor Team Arrangement (CTA) between two or more GSA schedule holders.
6. Solution Development:
Your solution is the bread and butter of your proposal. Due to the time it takes to develop a custom technical, management, staffing, pricing, and other solutions for a customer, you can't wait until the final RFP.
Stage 8: Federal Contract Proposal Development
When a company has done capture well, often it will have a solid proposal draft prior to the RFP release.
They will know the evaluation criteria, and they will have collected information and postulated the requirements.
They will have brainstormed to develop a comprehensive approach.
The company will also have developed key graphics and drafted information bullets for the text.
Proposal management usually starts when there is at least an RFP draft, although the government isn't guaranteed to release one.
Once you have the final RFP, you have a firm deadline. The most important thing you can have in your proposal management process is a good underlying structure. You don't have to reinvent the wheel; your process can follow the industry best practices. Here is a most basic example:
Kickoff, where you get everyone on the same page and present the schedule
A series of reviews:

Just-in-time reviews
Color reviews (Pink Team, Red Team, Gold Team, White Glove)
Read Aloud review

Then you plan for production – either printing and delivery or electronic
In the image above you see OST's proposal process, refined from more than a decade of showing small federal contractors how to win consistently. You increase your win probability greatly by having a documented process for your proposals.
Stage 9: Conduct BD During Project Execution
Business development doesn't end when you submit a winning proposal. You should turn your project staff into a sales force for your company. They are the boots on the ground, that may be rubbing shoulders with the customer day in and day out. Your staff may even tell you about new opportunities the contracting officer is working on and upsell your services to add scope to existing contracts.
What Do You Need For Successful Business Development and to Win Federal Contracts?
That is the entire federal business development life cycle – if you implement it well, your win probability will increase significantly.
Finally, there are five things that you need in order to grow your business aggressively:
Hire the right business development people, and acquire professional systems and tools to help you win efficiently.
Set up and document processes for all of your key activities.
Develop effective collateral for marketing and capture.
Create a "library" of reusable proposal materials.
Train all of your personnel so they become a salesforce for you to help you grow continuously.
In addition to BD consulting, training small businesses to perform business development consistently in an agile manner is a key component of OST's offerings. Some of the ideal courses for a company that needs to learn the basics of BD include:
If you would like to speak to someone about these or any of the other classes in our Bid & Proposal Academy, send an email to service@ostglobalsolutions.com
Contact us to learn more.