An opportunities pipeline is the engine of a company's consistent growth, and it is the product of Strategic Business Development Planning. OST provides business development services to research, qualify, build, and manage a company's opportunities pipeline. As a result of this service, our clients increase their proposal throughput and win rates by increasing efficiency and bidding on opportunities that are a better fit. Our pipeline development and management services also extend to multiple-award contracts (MACs) through our IDIQ Win Center. Over the past 10+ years, OST's Business Development Consultants have helped our clients win more than $21 billion in new work, not including IDIQ ceiling values. Our experts have applied OST's scalable and repeatable processes to help our clients achieve rapid growth in the Federal Government Market.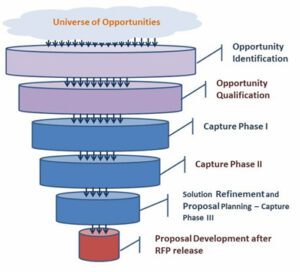 OST's Business Development experts will develop search criteria that profile your company's core capabilities and identify forecasted opportunities in your company's target agencies. Our BD Analysts will help customize your pipeline to collect the information needed to conduct capture and develop winning proposals.  We will build and maintain a fully developed, balanced pipeline that will give your company's BD staff and Executive Management the information needed to set appropriate B&P budgets, target opportunities in a proactive manner, and enact repeatable processes that will take your company to the next level of growth and development. As more information is captured, our BD Analysts will update the pipeline, lead qualification meetings, and further qualify opportunities through gate reviews. This pipeline will allow managers to track the progression of Capture and effectively prepare for the proposal response. In order to grow in a consistent, targeted way, the opportunities tracked in the pipeline need to be qualified against the company's business development plan. Implementing a rigorous opportunity qualification methodology will prevent your company from pursuing opportunities in a wasteful manner (i.e. going after anything that "sounds like us"). Our Business Development experts will tailor your opportunity qualification criteria to the strategic BD plan and help implement the "gate reviews" to efficiently qualify the opportunities in the pipeline.
Opportunities Pipeline for Federal Contacts Assistance
OST's pipeline development and management services ensure that our clients bid opportunities that have a high probability of winning, and invest their scarce B&P dollars where the return on investment is greatest. Our experts help bridge the gap between business development, capture, and proposal development. Our proprietary BD processes mirror the Federal Government's acquisition lifecycle so that we can track opportunities from forecast to proposal submission. This ensures that all the intelligence we collect about the customer and the opportunity throughout the BD lifecycle makes it into your capture strategy and allows you to shine through your proposal.
Ready to Win More Government Contracts?
Schedule a FREE 45-minute Business Development Consultation with one of our experts or call (301) 384-3350.
We'll discuss actionable ways you can grow in the Federal market and
tell you exactly how we can help you reach your goals.
Contact us to learn more.