We have spent decades conducting business development and leading proposal efforts for our government contractor clients, and we have won over $22 billion in funded work for them. Over time, we have seen the same mistakes come up repeatedly in different companies across multiple industries. Our consultants have brainstormed on the top three problems that government contracting companies keep making that are seriously impacting their performance and growth.
This blog post will summarize those problems and cover the federal business development process to provide a common understanding to work from.
The Three Major BD Problems
The three problems we've seen that impede successful BD efforts and proposal awards are:
Too few opportunities in the pipeline to meet growth goals
It takes a tremendous amount of work and discipline to research and qualifies opportunities. You must make incremental progress engaging with the customer and gather intelligence. Then you'll develop win themes/win strategies, conduct competitive analysis, and form a winning team. Finally, you'll brainstorm on the solution. Many times, companies don't submit enough proposals because they don't have anything interesting to bid on.
No review process to check each opportunity's capture progress to then decide if the pursuit should still be funded
At the very least, business managers need to conduct a bi-monthly pipeline review and an interim check on each individual opportunity. No one likes to do pipeline/opportunity reviews, so leadership and buy-in have to come from the top. As soon as the BD lead steps away or delegates it, the whole process falls apart.
Submitting general proposals that don't answer the government's requirements
Capture is largely pre-proposal preparation, but capture managers usually don't generate proposal artifacts. Capture managers should perform a variety of tasks that contribute to successful proposal development. Many of these tasks are either not done or left to the proposal team to do once the final RFP has been released. Usually, there isn't enough time to play catch during a live proposal. So the proposal team resorts to copy-and-paste because they have nothing to write about.
We will address each of these major problems in subsequent blog posts, but we will talk about the general process that companies should be using to grow in the government contracting industry.
Introduction to the Full-Lifecycle of Federal Business Development
The figure below shows a high-level view of the OST's BD process. This intro portion is a crash course because we'll briefly cover all the basics in this post. You might also think of this overview as what college professors call an "appreciation course." We hope that this process will provide a general understanding of Parts 2-4 in the upcoming weeks.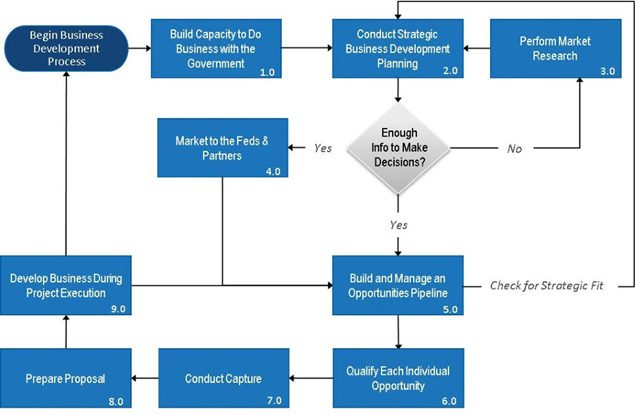 Blueprint for the Federal Business Development Process
1. Build Capacity to Do Business with the Government
Before your firm can aspire to bid on government contracts as a prime contractor, you must gather the resources, develop the capacity, and build the infrastructure to deliver a winning proposal and execute successfully on contract after award.
Completing this step might mean that not all of those objectives have been achieved. But you must at least identify the required elements and have a detailed plan for acquiring or developing them. For example, many larger contracts require a DCAA-compliant accounting system. This is a significant investment that isn't required when you are just starting out but will become a major hurdle as you grow and seek to win larger contracts.
Other things in this step include financial resources, certification and licenses (such as ISO and CMMI), facilities, clearances, equipment, key performers, and training. The key here is to add the pieces that your customers usually require on their contracts. It's a process that happens continuously over time.
2. Conduct Strategic Business Development Planning
Strategic business development planning should take place semi-annually or annually. Business development planning relies on information from market research. During this session, the participants should be discussing their ideal opportunity profile, target agencies, vehicles, growth goals, pipeline metrics, etc. This plan should be used later on in the process as a benchmark to qualify each opportunity.
3. Perform Market Research
As part of Step 2, you need to know which markets you are going to enter, what are the market trends, who are the competitors, who are the customers, and which opportunities could advance your company's growth. Preliminary results will lead you to more research, which then provides feedback to the planning process.
Don't become preoccupied with the features and benefits of your company's own offerings. Certainly, your unique offerings will be the core of any proposal. But insightful research requires understanding your competitors and their products. You must research their contracts, when those contracts will expire, and which areas of the market they may be planning to conquest.
Just as crucial is the same information about your prospective customers—the Government agencies as well as their programs, teams, and plans. Understanding business needs and pain points will help you hone both your technical solutions and your management approaches for higher quality and effectiveness.
Decide: Do We Have Enough Information to Make Decisions?
At this point in the process, your BD team must assess whether you have enough information—including both competitive intelligence and customer intimacy—to move forward. If not, the process returns to the previous step do market research in greater depth. If you feel you have sufficient facts and understanding, your marketing efforts can proceed in earnest.
4. Market to the Feds and Partners
Marketing takes place after you know which customers you're going after and who your competition is. Marketing in this step entails targeting specific people in the government for specific contracts. You have to know who to talk to and what specific opportunity to talk about. Don't waste the government's time with a general capabilities statement and the question at the end of how can we help you?
You should know exactly how you can help before you go to the meeting. The same is true for partners. You need to develop a value proposition for a specific opportunity that will resonate with specific people.
Additionally, effective marketing in today's online marketplace includes making your website easy to find for Government customers and also potential teaming partners. You must also develop a presence on social media, along with more traditional methods of engaging with the Government, such as paying visits to target customers and participating in industry groups.
5. Build and Manage an Opportunities Pipeline
Continuously populating and managing your opportunities pipeline is key to a successful BD process. We think of it as a funnel: At the top, there's the universe of all potential bids that might fit your company and its offerings. The funnel and flow grow narrower as you sort those opportunities for fit and win probability.
Other filters could be socioeconomic set-aside, contract size, available resources, technology preferences, evaluation criteria (Trade-off vs. LPTA), Service Contract Act requirements, clearance, etc. Through iterative reviews and evaluations, you choose opportunities your company leadership is willing to commit significant resources to.
Your financial capability must be enough to complete the proposals and also to field your team of performers upon award.
6. Qualify Each Individual Opportunity
This step shouldn't be guesswork—too much is at stake. But often such gate reviews end up being far from precise. To support each of these decisions, we've developed a Bid/No-Bid Framework. You can use this interactive worksheet to assign metrics to win factors and arrive at a numeric determination about whether to submit a particular bid.
7. Conduct Capture
Capture is pre-proposal preparation, and it is often the longest step in the business development lifecycle. It can involve years of deliberate, targeted activities with proper lead time and spacing. The goal is to engineer a win ahead of time.
For example, it will take more than a few phone calls to build a relationship with your Government customer. Capture is a profession and not the focus of this article, but you can find more information here.
8. Proposal Preparation
As shown in the diagram below, our approach to proposal development is just as formal and disciplined as our overall BD strategic process. However, as we've covered here, the capture management and BD pipeline should feed into the tasks of developing technical solutions and management approaches well in advance of RFP issuance.
Here are three of the most important characteristics of a winning proposal, the first two of which stem from a well-run capture effort:
Match the solution with the customer's requirements, budget, wishes, and vision.
Present targeted features and benefits, with a clear value proposition.
Follow a disciplined process that gets you to the deadline without undue stress and allows you sufficient time to polish your document.
Proposal management and development are a whole group of professions that people spend decades perfecting. You can learn more here.
9. Develop Business During Project Execution
Your competent, compliant, and reliable contract performance will pave the way to future successes and expanded business opportunities. If you do well, you can probably upsell related offerings to the same customers.
Through your ongoing BD process, you will find out more information about other pursuits, and in the eyes of your customers, you will join the inner circle of favored companies. You will also generate an exemplary past performance record that you can leverage in your future proposals, demonstrating high value and low risk.
We hope our crash course has been a helpful introduction to federal business development. In the next 3 blog posts, we'll cover where things usually break down and how to fix them.
If you want the best professional training available in how to grow your government contract business, check out our Bid & Proposal (B&P) Academy to empower your team to win and grow your company.
Contact us to learn more.