The National Oceanic and Atmospheric Administration (NOAA) announced changes to its draft Request for Proposal (RFP) for the Fisheries domain of its $8-Billion Indefinite Delivery Indefinite Quantity (IDIQ) contract, the Professional, Scientific, and Technical Services (ProTech) 2.0.
In the agency's November update to bidders, NOAA indicated that the final RFP would be released in early December. Although the solicitation has not yet been updated in SAM.gov, NOAA recently announced notable changes in its draft RFP.
Number of Awards
NOAA expects to offer no more than 25 awards and will issue no more than 30 advisory recommendations to proceed during Phase I of the source selection process. Offerors that identify limited capability in Phase I may still be advised to proceed to Phase II and may still obtain an award. Niche vendors (those with strong capability in a PWS element or task area(s)) may be included to broaden vendor capability at the IDIQ level.
Total Small Business Set-aside
The Protech 2.0 Fisheries Domain requirement will be a total small business set-aside. NOAA is seeking small business contractors to implement innovative data collection and management technology to support sustainable, ecosystem-based fisheries management supporting NOAA's Fisheries Climate Science Strategy.
Protech 2.0 Fisheries Domain is one of four multiple-award IDIQ opportunities in the Protech 2.0 contract portfolio, which also includes Satellites, Oceans, and Weather. The domains share an $8-billion contract ceiling across the four vehicles, and NOAA held the re-compete for the Satellite domain last year. The Fisheries domain will be a mandatory-use contract for professional, scientific, and technical services for NOAA and the Department of Commerce agency-wide for all services within its scope of work.
Relevant Experience Changes
Corporate Experience and Past Performance are now considered recent if they are ongoing or ended within the past eight years of the proposal due date. Previously, these elements were restricted to projects within five years of the proposal date.
Phase I Scoring
NOAA will determine the optimal number of offerors considering the proximity measures received during Phase I. According to the agency, optimal will be judged based on proximity to a notional ideal offeror who performs half of the 33 services (i.e. ideal breadth = 0.5) and performs all services at the highest possible level (ideal), or a selection of 3 for all scope elements for which they have experience (i.e. ideal depth = 1.0).
Phase I requires an Administrative Volume that includes an executive summary; a 5-page written submission outlining bidders' employee recruitment capabilities and mission commitment, and a technical corporate capabilities self-assessment matrix.
Relevant corporate experience should be greater than or similar in size to current ProTech Fisheries task orders, which range from $100,000 to $10 million. Bidders need not illustrate relevant experience across all task areas outlined in the draft performance work statement (PWS), bidders may still be approved to apply for Phase II evaluation and be offered a contract if they are the only firm capable of performing a particular element of the PWS, according to the draft RFP.
Six Task Areas
Bidders must show the capability to provide NOAA with professional scientists, technical experts, and consultants to provide services in six task areas:
Studies, Data Analysis, and Reports
Applied Research, Engineering, Consulting, and Operations
Filed Sampling, Data Collection, and Surveys
Training and Program and Project Management
Fisheries Management and Consultation Activities
Economic and Social Science
Bidders must address each requirement listed under each scope element. "If an Offeror does not demonstrate experience for each requirement within an element, this will decrease confidence," NOAA stated in answers to questions posted on SAM.gov.
Two Phase Evaluation
NOAA is anticipating inviting the top 30 contenders from Phase 1 submissions to submit full written proposals and an oral presentation during Phase II.
OST Global Solutions is a professional business development consulting firm. We have experience supporting large, strategic bids like ProTech 2.0. We can provide capture and proposal teams to develop a complete, winning ProTech 2.0 proposal. Or we can provide consultants on a case-by-case basis to fill gaps on your business development team. Our services related to the ProTech 2.0 proposal consist of capture management, proposal management, proposal writing, graphics support, editing, desktop publishing, orals coaching, and cost volume development.
Reach out to us to discuss your ProTech 2.0 bid, so we can discuss how we can help develop a winning proposal.
Or reach out to us to learn more. service@ostglobalsolutions.com
Upcoming Bid & Proposal Academy Classes
OST Global Solutions
7361 Calhoun Place, Suite 560, Rockville, MD, United States
Developing a Winning Cost Volume course helps you increase your federal contract win probability. We focus on government contract evaluation, pricing fundamentals such as cost buildup and cost volume elements, price strategy, developing basis of estimate (BOE), coming up with assumptions, Work Breakdown Structure (WBS), cost volume narrative, winning in lowest price technically acceptable proposals (LPTA), and much more. Learn More
OST Global Solutions
7361 Calhoun Place, Suite 560, Rockville, MD, United States
This class covers the spectrum of the most important topics, from preparing for a proposal effort and making a bid-no-bid decision, to orchestrating a great proposal kickoff, driving subject matter experts to produce winning content, exhibiting superb leadership and team management skills, managing conflict, setting the right expectations, optimizing proposal team performance, getting the most from the proposal color reviews, and mitigating proposal risks at every stage to reduce stress and increase your proposal's Pwin. The course also focuses on measuring and improving cost-efficiency and effectiveness of the proposal team. Learn More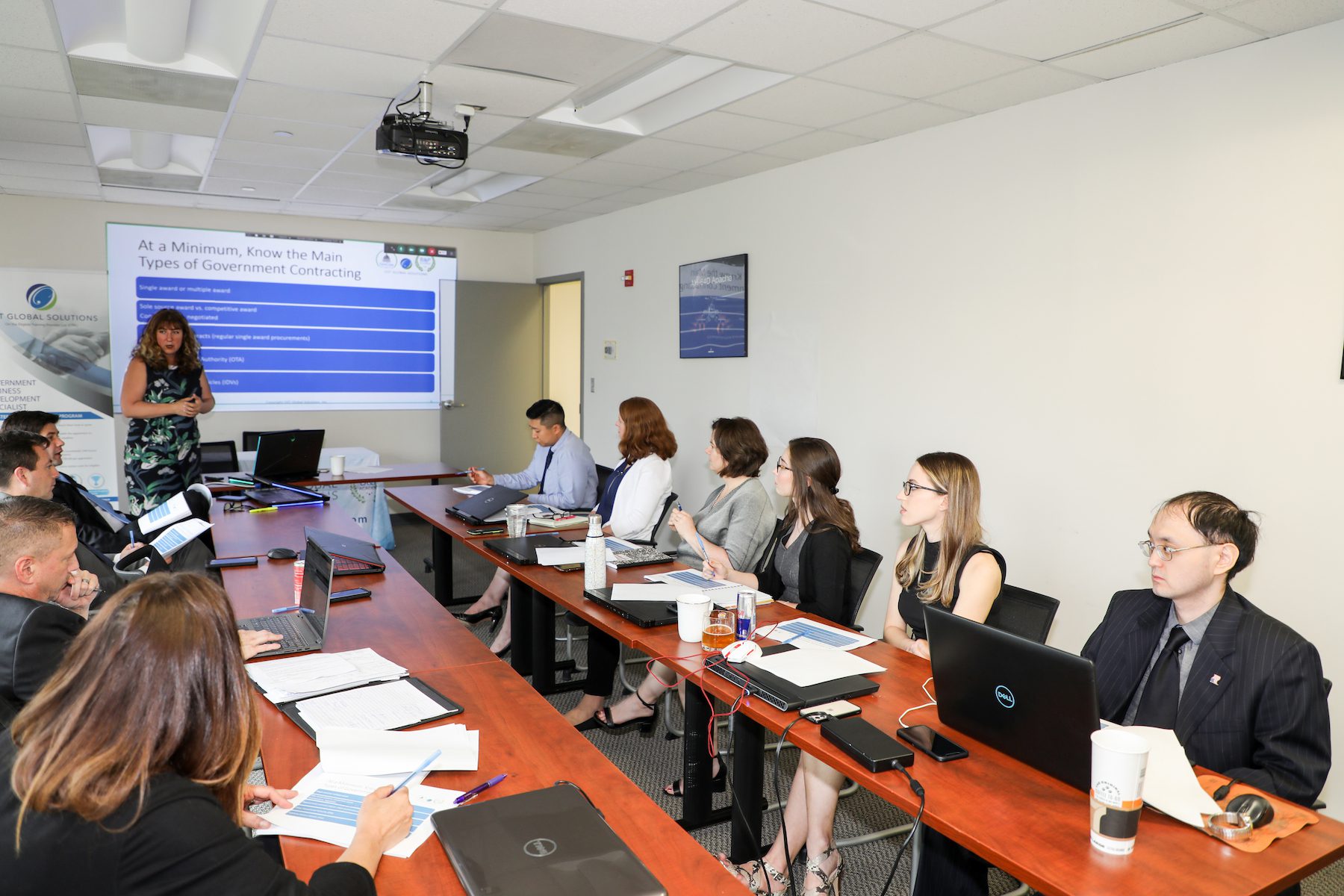 OST Global Solutions
7361 Calhoun Place, Suite 560, Rockville, MD, United States
This Government Business Development training offers essential skills in professional business development for government contractors selling services and solutions to the Federal Government. The two-day course begins with an overview of the Federal business development (BD) process and what it takes to succeed in the profession. It proceeds to the basics of U.S. Government business. Learn More