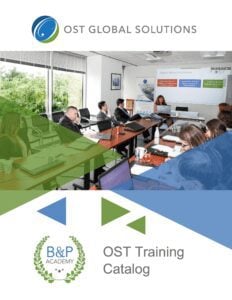 OST Global Solutions is the home of the Bid & Proposal Academy. We have codified our best practices in our courses, and we teach these processes and techniques that we use to win at the highest level of Government contracting – from small to large contracts.
Our Bid & Proposal Academy provides training for business development, proposal, and project professionals. Newcomers to the field use our courses to build a solid foundation, while professionals with decades of experience gain a greater understanding of the finer points and nuance needed to gain a competitive edge.
Win more contracts by training your business development team with our instructor-practitioners. We offer multiple training solutions to meet your needs.
Download the 2022 2023 Course Catalog
Complete the form below to download the course catalog.