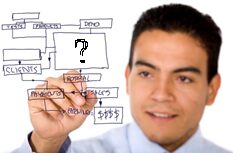 Proposal planning begins prior to the kickoff, with the development of an outline. You have two options when planning an outline:
Develop a regular outline then use storyboards to think in a structured way through the sections
Develop an annotated outline with a proposal manager (perhaps with additional help from subject matter experts (SME)) providing guidance to the writers for the sections
After the kickoff meeting, people don't really get to jump into writing right away. Instead, they should think first about what they are going to say, entering the brainstorming and research phase. This is where the authors make decisions on the final solution, come up with details, and find facts. Brainstorming can be done individually or in small groups.
A writer can brainstorm by themselves using a structure of a storyboard or a mind map (my personal favorite), but many solutions and decisions require the collective genius of a group. A proposal manager's job is to organize and facilitate two or three larger brainstorming sessions to figure out every element of your solution, with a possibility of breakout brainstorming sessions for specific solution elements or even graphics.
Brainstorming sessions have to be well structured so that they do not turn into a huge waste of time. Use a checklist, a facilitator, a timekeeper, and come in with specific agenda items to discuss. You should also have specific decisions and products in mind to come out of the brainstorming meeting.
Do not start writing until you have finished your planning process. Once you have a good section plan, your writing will go significantly faster.
You will also have to make sure that your writing progresses every day, which is usually done through in-process reviews.
These working reviews allow the person in charge of the proposal to read other writers' work to check if they are on track. You also need to conduct status meetings on a daily basis to keep your team on the same page. These usually take only 15 minutes, but go a long way toward maintaining momentum.
Your in-process reviews will have to continue into the writing phase to ensure that you maintain tight control over your proposal. After all, in proposals, "trust" is a dirty word. Your motto about proposal sections and graphics should be this: "If I haven't seen it, it does not exist."
As mentioned earlier, at the end of each major proposal phase, you will have to hold major reviews that are more formal than your in-process reviews. They are commonly referred to as "color teams." Formal reviews, such as Pink, Red, and Gold Teams, are a proposal best practice. Never submit a proposal without at least one formal review, even if your schedule is short.
Usually, there are two to five reviews (depending on the proposal duration) in the course of a proposal, where you invite up to a dozen people to act as if they were the government evaluating your proposal, and provide their comments to you. The reviewers might include your and your teammates' management, SMEs, consultants specialized in reviewing proposals, and others whose opinions you respect and who have experience conducting constructive and productive reviews of government proposals. If you are just starting out in the government contracting arena, reach out to OST and we can review your work.
The number and type of reviews depend on your process and proposal duration. You need to plan for enough reviews to keep the pressure on proposal writers and have enough checkpoints to ensure great proposal quality. At the same time, you need to avoid creating a counterproductive environment called "death by reviews," where the team spends more time preparing for the reviews and reviewing of the proposal than it does in actually writing the document.
Most government RFPs will require you to separate the cost offer from the technical offer, so you will need to submit at least two volumes. It is easy to focus on the technical volume review and forget all about the cost volume.
Many companies get their cost proposal developed at the last minute, and as a result, it has mistakes and often does not match the technical proposal. To prevent this from happening, you need to run your price volume reviews so that they take place in parallel with or immediately following the technical volume reviews. Some trusted reviewers have to read both volumes to make sure that these volumes agree; and that the price volume does as good a sales job as the technical one.
Your goal is to set the desired outcomes for each review for your particular proposal pursuit, no matter what color of the rainbow you choose to call your review. Let's look in more detail at some traditional colors and associated goals in the review sequence: Pink Team, Red Team, Read Out-Loud Review, Gold Team, and White Glove.
Best,
Olessia Smotrova-Taylor
President/CEO
OST Global Solutions, Inc.
…Because There is No Second Place in Proposals! TM
https://www.ostglobalsolutions.com
Contact us to learn more.