For someone who has worked in and around IT for 8+ years and develops websites, I'm embarrassingly slow to adopt new technology. When I bought myself a new laptop a few months ago, I decided to finally upgrade my super-outdated Office 2007 to Office 365. Except for Word crashing whenever I work on multiple large documents, Office 365 has been great so far; it's similar enough to Office 2007 that I haven't faced much of a learning curve. What I only just realized was that purchasing Office 365 gave me access to the invaluable tool OneDrive.
I've heard Microsoft SharePoint and OneDrive mentioned on numerous occasions since I became a proposal professional, but I had no idea how much easier these collaborative writing tools could make my life as a proposal writer, editor, and desktop publisher. My days of painstakingly merging content from multiple authors into one document and trying to sort out conflicting edits and comments are over! I just used OneDrive—which is essentially an out-of-the-box, no-programming-required, everyday man's version of SharePoint—on a proposal that had to be completed in a week and saved SO much time. I didn't realize how much until I had to incorporate edits from a third party the old-fashioned way at the end, which was painful by comparison. OneDrive is truly awesome, and here's why:
As long as all of your SMEs, authors and other team members have Office 365, you can all work simultaneously from the same document and share your edits with each other in real-time. Your proposal manager just needs to set up a OneDrive (or SharePoint) folder, put all the related proposal files in it, and share a link with the team. You can then click on the proposal file and choose to edit in Word on your desktop. (Formatting can look like it's gone haywire if you try to edit from OneDrive online instead of on your desktop.) As you work, you'll see pop-ups on who's joined you, get reminders about where you were working the last time you opened the document, and more. Best of all, any edits your teammates make will simultaneously appear in the document, highlighted in a different color so you won't overlook them. It's brilliant!
This may seem like a silly epiphany to those of you who are OneDrive or SharePoint veterans. However, for anyone like me who's technologically resistant or just hasn't had the opportunity to try these fabulous collaborative writing tools yet, you need to know how valuable they are. Writing collaboratively can save you countless hours of unnecessary time tracking versions, consolidating, editing, and sorting out conflicting edits and comments.
Here is a comparison of the features between OneDrive and SharePoint, if you're curious: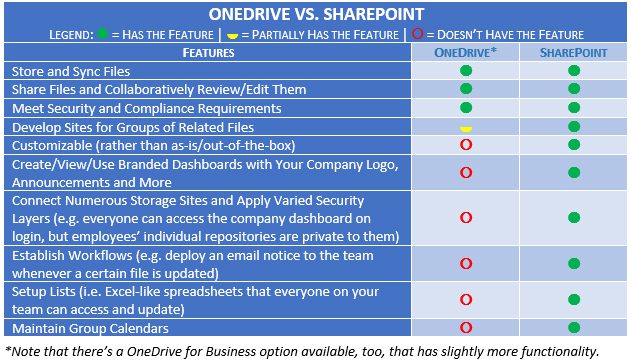 If you're a proposal professional and not using one of these tools, you're missing out. This isn't a Microsoft rep saying they're amazing; I'm a fellow proposal professional like you. I'm just so thrilled with how much OneDrive has simplified my job that I wanted to spread the word to anyone who hasn't yet discovered its many benefits. A 1-year Office 365 license is only around $60; it's a worthwhile investment for OneDrive alone and comes with other new goodies to boot. Check it out! You may also want to check out our upcoming OST Bid & Proposal Academy courses to help you further develop your proposal management, writing, editing, and business development skills.
Sincerely,
Laura Hill
Writer, Instructor & Marketing Manager
OST Global Solutions, Inc.
E: lhill@ostglobalsolutions.com
C: 240-418-8727
Contact us to learn more.