Get competent help with the full life cycle of Capture Management
Task Order Capture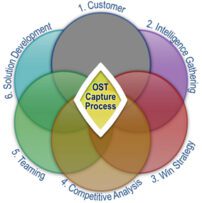 Capture is pre-proposal prep work that's necessary before Task Order RFPs are issued if you want to succeed and maximize the benefits from your seat on an IDIQ contract vehicle. Task Order Capture can sometimes resemble capture of a "regular" pursuit of a "requirements" contract, but most often you can expect to deal with:
Reduced or non-existent ability to contact the Government customer
Less time to perform capture
Mostly well-known competition
To help you run a meaningful task order capture effort, we use a streamlined strategy:
Absent customer contact, we research customer "hot buttons" (i.e. hopes, fears, and biases).
We conduct short, focused win strategy, win theme, and solution development brainstorming sessions.
We also help perform an analysis to compose the right team to beat your competition.
We perform a mini competitive pricing analysis to avoid losing based on the cost volume.
Account Planning
As you are looking to not only win one or two task orders on your Indefinite Delivery Indefinite Quantity (IDIQ) vehicle but grow aggressively as a holder of that IDIQ contract, you need a "map" to understand help penetrate the customer's organization. The government has many people participating in the source selection process, deciding on the winner. You need to know those people. You have four goals with the customer: build the relationships, understand the customer's hot buttons (hopes, fears, and biases), shape the requirements, and vet your solution. Government organization usually comprises:
The contracting officer, program manager, and other key contacts
Oversight authority
End-user organizations
Policy and funding organizations
Congressional oversight and committees
Other offices and agencies involved in related or similar activities
Customer organization gets even more complicated for an IDIQ that serves more than one Government office and agency, with Governmentwide Acquisition Contracts (GWAC), for example. Narrow down the list of clients you will pursue, and perform the same analysis for each customer. A "map" is a visual representation that accompanies an account plan, so you could see the "landscape" of how opportunities emerge, and who is involved. It is a mix of various org charts and your notes who have relationships in your organization, with the Government. It is a living document that evolves with your level of understanding of customer organization.
Task Order Manual Preparation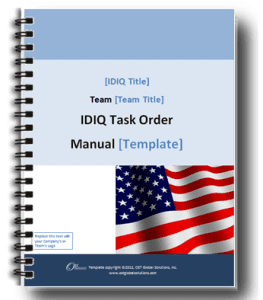 We help you put together an IDIQ-specific Task Order Manual that encapsulates operational rules for a well-functioning IDIQ team to establish a sound team management foundation, help the continuity of operations, and create the IDIQ winning "machine." It contains information on IDIQ patterns and processes the entire team can follow, stay organized, and moving in the same direction. It introduces organizational leadership after an IDIQ award—so your entire IDIQ team knows how to react quickly to bid, and how to win. Your IDIQ Task Order Manual may even have an internal (detailed) version and an external (streamlined) version for your teaming partners.  It is a living document that contains the most important information and strategies for your IDIQ:
Overview of the program/vehicle from the capture and proposal viewpoint, including unique IDIQ's "personality"
What is the IDIQ "pattern" – how often are the task orders issued, how are they evaluated, what's valued on the vehicle, and what does it take to win?
What are the marketing rules of engagement your teammates will abide by when talking to the customer, and how do you create a unified customer message? How will your teammates be allowed to interact with the Government customer? Can they talk to the customer directly or do they have to go through you? What if they send a message to your team that is contrary to your strategy? Can they bring work to the vehicle by talking directly to the customer? How will you deal with "frenemy" companies, i.e. your non-exclusive subs?
What workflow will your team follow for business development, capture, and proposal development?
How will everyone stay organized and know what to do when the time is of the essence?
Unified customer message
The organization, including PMO and teammates, with points of contact and their roles and responsibilities
Methods and frequency of communications
Security rules, invoicing, portal login, and other administrative information
IDIQ Task Orders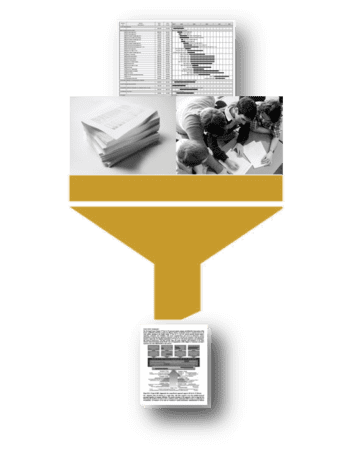 Indefinite Delivery/Indefinite Quantity (IDIQ) Task Order proposals are usually different from Government proposals addressing "regular" requirements. They have a rapid turnaround (typically from 1-2 weeks) and limited page count (typically 5-20 pages). Writing Task Orders is not simple. Just because they seem like a smaller effort than 50-to-100-page proposals that you have 30 days or more to complete doesn't mean you can expend less effort. Quite the opposite is true; in fact, Task Order proposals require:
The same capture planning and solution development, masterfully summarized, with examples of drill-down into the level of detail to take credit for your preparation process.
More simultaneous proposal activities to ensure everything gets done on time while your schedule is compressed.
More succinct narrative and graphics as you have less "real estate" (in terms of page count) to distinguish yourself from your competitors.
Same precision in pricing, even when the Government may request a "Rough Order of Magnitude (ROM)" cost estimate, as the Government won't allow you to deviate much in your final price.
Our internal team of talented consultants will lend a helping hand to your team with these Task Order proposal-specific roles:
Proposal Manager: Familiar with the demands of a short-duration proposal
Proposal Integrator: A senior proposal writer capable of understanding and even refining your solution while integrating inputs from multiple Subject Matter Experts (SME), polishing the narrative and helping conceptualize graphics. Not every writer can be a proposal integrator, and with many activities accomplished simultaneously, one person is imperative to have in this role on a fast turnaround proposal.
Cost/Price Strategy, Estimating, and Basis of Estimate (BOE) Development Experts
Color Team Reviewers (Pink Team, Red Team, Gold Team)
Proposal Editors/Desktop Publishers
Proposal Graphic Artists
Personnel Recruiters
Schedulers for Resource-Loaded Schedules
Many Other Specialists
We can either run your entire Task Order or provide support for separate tasks, such as outlining or reviewing. If you don't have proposal space and need one in the DC area, you can run your Task Order out of our proposal center in Rockville, Maryland. We can also help you with Task Order staffing, which involves our recruiters helping locate program personnel when you must submit resumes with your bid. Speed is the name of the game in writing winning Task Order proposals. Therefore, we offer training in speed writing as part of our course on Writing Persuasive Federal Proposals. You may also find our Proposal Editing Workshop useful for focusing on succinct and impactful narrative, and our Graphics Conceptualization and Win Themes Development Workshops helpful for making your proposals more persuasive. Another handy tool we recommend is our Proposal Manager's Essential Checklists, which take the guesswork out of proposal management and coordination. We can also set up a Task Order proposal template for you to speed up the desktop publishing process. It will have automated menus for one-click formatting of your document. On a short-duration proposal, every hour saved could be the hour spent on developing winning content.
This Task Order Manual will help you dominate your IDIQ competition. Have a Task Order Manual for each of your IDIQ vehicles. If you would rather put one together yourself, we offer a 52-page, detailed Task Order Manual template that not only provides the format and the words to put in your own Task Order Manual but also gives directions on how to tailor it further to your needs.
Contact us to learn more.