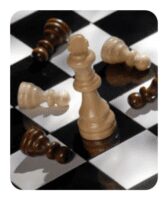 To develop your proposal winning strategy, you need cross-functional contributions that might include people in your organization who know the customer well, subject matter experts in the statement of work, contracts, pricing, and account executives or business developers who communicate with the customer.
Start the first team meeting with a presentation on the opportunity background, and then discuss what to expect during the meeting. Then, explain to your team what your win themes are, and how you are going to go about developing them.
Here are the three categories of win themes for your team to draw on:
     1. Discriminators and differentiators. A discriminator is an advantage that is unique to you, which nobody else has in the world or in the market where your customer operates. Explain what it is that you bring to the table that is actually important to the customer either today, or in the future, in order for their company to grow. A differentiator is a strength that most of your competitors do not have when you are going after a multiple award contract. A differentiator distinguishes you from most of the competition, but is not 100 percent unique. One or two others might have this differentiator as well. Because there will be more awards than those who have this differentiator, demonstrating your precise approach will differentiate you from the rest who do not. Again, remember, your discriminator or differentiator has to matter to the customer, or it is no more than an interesting fact.
     2. Your non-unique strengths. This is something that is usually referred to as a "me too" in the proposal field because most of your competitors can make exactly the same claim: "I can do this too." However, if your customer needs that strength, then why not sell the fact that you are very qualified with regard to the basic requirements?
For example, if your customer cares about small businesses and likes lots of personal contacts, you could say, "We are a small business with the infrastructure of a large business, but our goal is to focus on providing our best-in-practice capabilities as a small company that considers each and every client vital." Nothing about this statement is unique. Many small businesses can say the same thing.
Therefore, instead of having a win theme that is very general, you can neutralize your competitors' similar win theme by making the same point, but better—by adding substantiated proof to your claim. You could add specifics describing your infrastructure, and anything that proves how focused you are on your customer: number of visits your CEO pays to the customer monthly, specific personnel by name who interface with the customer, and so on. Quantifying, qualifying, and proving it makes a "me too" strength unique and powerful.
     3. The negatives that could serve you well: the opportunities for turnaround and ghosts. Opportunities for turnarounds refer to such situations as your company failing to deliver on a project or getting a poor past performance reference. You can make your blunders serve you instead of detracting from you when you represent them as valuable lessons learned. You can show the significant changes you have made thanks to the bad experience. Once bitten, twice shy. This puts you in an advantageous position over the competition.
You can also employ a technique called ghosting, pointing out to the customer your competitors' unique disadvantages. "Ghosting" is not outright slandering, it is implicating your competitor indirectly and subtly. You do not name your competitor, but you do point out a problem they have. You can also point out your strengths in the exact area where your competitors might be failing.
For example, if you know your competitor is getting ready to be sold, you may say: "Unlike other companies of similar size, we are not going to be divested within a year, causing turmoil, performance/budget risk, and employee turnover." You could then contrast it with your stability, customer focus, and proof of delivering similar programs well.
The only warning is to be very careful, as ghosting can be a double-edged sword. Be sensitive of the risk of presenting your facts incorrectly (for example, a competitor might have already corrected the problem), being too blunt and turning the customer off, confusing the customer because your ghosting is too obscure, or even offending the customer in case they didn't do a good job themselves managing the nonperforming incumbent.
P.S.: If you need Business Development, capture management, proposal management and writing, or onsite proposal training support using OST's proprietary methodologies, contact us (301) 384-3350 or email service@ostglobalsolutions.com. We have supported 18 out of the top 20 Federal Contractors and have won $19 Billion for our clients not counting the IDIQ ceiling values. We are here to help you to solve your proposal resource problems in a pinch!
Best regards,
OST Global Solutions, Inc.
…Because There is No Second Place in Proposals! TM
https://www.ostglobalsolutions.com
Contact us to learn more.