The U.S. Air Force released a Request for Information (RFI) for a replacement aircraft for the Boeing E-3 Sentry Airborne Warning and Control System (AWACS) aircraft, a model that was designed and built during the early 1970s, first becoming operational in 1977.
Responses are due by March 10. Although the award amount for this contract is yet undetermined, the Air Force expects the contract will have a base awarding period of five years.
The current E-3 airframe is based on the Boeing 707, an aircraft first flown in 1957. In addition to the U.S. Air Force, other operators of the aircraft include the Royal Air Force, Royal Saudi Air Force, French Air and Space Force, Chilean Air Force, and the NATO Airborne Early Warning and Control Force.
AWACS enabling capabilities include:
Airborne host platform
Certified air refueling capability
Multi-mode Airborne Moving Target Indication (AMTI) radar
On-board BMC2 system
Combat Identification
Line of Sight (LOS) and Beyond Line of Sight (BLOS) communications
Ground elements (mission planning, training, and support)
The Air Force is seeking the following information from potential vendors:
Provide the Government with at least two manned aircraft and associated ground systems within five years that would provide the capabilities of the E-3G listed above. Describe in detail the capabilities your platform would provide in each of the following areas and include Technology Readiness Level (TRL):
Advanced AMTI radar
IFF capabilities (transmit, receive, interrogate)
Electronic support measure
BMC2 mission system with integrated on and off board communications
Ability to conduct at least six (6) BMC2 missions simultaneously
Missions include Offensive Counter Air (OCA), Defensive Counter Air (DCA), Air Traffic Control (ATC), Close Air Support (CAS), Suppression of Enemy Air Defenses (SEAD), Air Refueling (AR), Combat Search and Rescue (CSAR), etc.
Ability to conduct radar-based maritime surveillance missions
An integrated self-defense suite
Built-in full mission awareness in the cockpit
Boom/receptacle air-to-air refueling capability
M-Code Global Positioning System
Mobile User Objective System (MUOS) communications
Automatic Identification System (AIS) receiver
Second Generation Anti-Jam Tactical Ultra-High Frequency Radio for NATO (SATURN)
Link-16 Crypto Modernization and Frequency Remapping
Crew rest capability
Systems Integration Lab (SIL)
Pre- and post-mission ground support systems
Aircrew and maintenance training systems
Additional information can be found in the RFI.
Respondents must ensure that their approaches ensure that weapons systems meet Air Force cybersecurity and Risk Management Framework (RMF) requirements and incorporate appropriate program protection. Respondents must also provide examples of where they have provided comparable capabilities that meet these standards and requirements.
Existing vendors supporting E-3 maintenance and sustainment are Lockheed Martin, Boeing, and Raytheon Technologies.
OST Global Solutions is a professional business development consulting firm. We provide capture and proposal teams to develop winning proposals. Or we can provide consultants on a case-by-case basis to fill gaps on your business development team, including running your color team reviews. Our services consist of capture management, proposal management, orals coaching, proposal writing, graphics support, editing, desktop publishing, and cost volume development.
Reach out to us to discuss how we can help you develop a winning proposal.
service@ostglobalsolutions.com
Upcoming Bid & Proposal Academy Classes
OST Global Solutions
7361 Calhoun Place, Suite 560, Rockville, MD, United States
Developing a Winning Cost Volume course helps you increase your federal contract win probability. We focus on government contract evaluation, pricing fundamentals such as cost buildup and cost volume elements, price strategy, developing basis of estimate (BOE), coming up with assumptions, Work Breakdown Structure (WBS), cost volume narrative, winning in lowest price technically acceptable proposals (LPTA), and much more. Learn More
OST Global Solutions
7361 Calhoun Place, Suite 560, Rockville, MD, United States
This class covers the spectrum of the most important topics, from preparing for a proposal effort and making a bid-no-bid decision, to orchestrating a great proposal kickoff, driving subject matter experts to produce winning content, exhibiting superb leadership and team management skills, managing conflict, setting the right expectations, optimizing proposal team performance, getting the most from the proposal color reviews, and mitigating proposal risks at every stage to reduce stress and increase your proposal's Pwin. The course also focuses on measuring and improving cost-efficiency and effectiveness of the proposal team. Learn More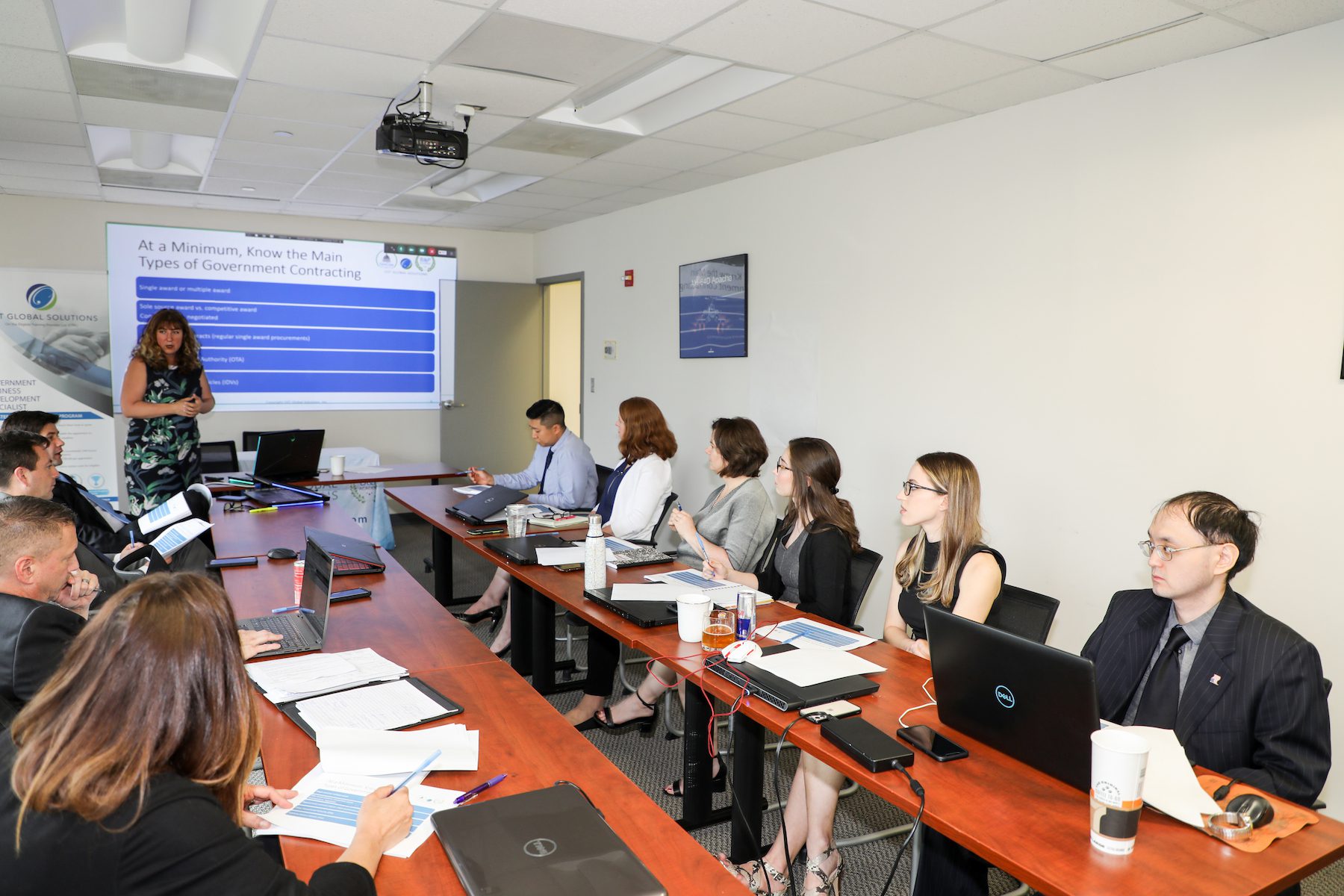 OST Global Solutions
7361 Calhoun Place, Suite 560, Rockville, MD, United States
This Government Business Development training offers essential skills in professional business development for government contractors selling services and solutions to the Federal Government. The two-day course begins with an overview of the Federal business development (BD) process and what it takes to succeed in the profession. It proceeds to the basics of U.S. Government business. Learn More