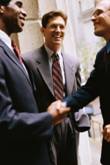 When interfacing with government customers while doing business development or capture, you need to remember that you are still dealing with people. The government has its own rules, and the process is hard to navigate in the beginning. Government officials have their own culture and language, but all the universal rules for building business relationships still apply.
When you build a relationship with government representatives, you have to take a multidimensional approach. Your first task is to create a contact plan using phone calls, visits, and, to a lesser degree (and very cautiously), e-mails. You need to build as many relationships as possible, with as many contacts at the agency as you could possibly find time to get acquainted with.
The reason you need to go wide and not only deep is that your main government contact could up and leave after you've invested all your time and efforts into building that one relationship. For example, in DOD people frequently get reassigned after only a couple of years in the office. Therefore, you want to ensure that you establish a larger footprint at the agency. The government universally despises sales people, so your goal is not to sell yourself and your company; your goal is to become their trusted advisor. Here is how you go about it. Through your interaction with the customer, you will learn about his or her pressures, key care-abouts, hot button issues, and needs. You will have to practice your active listening skills. Use this information as an opportunity to serve and offer them help—they might need you to guide them in preparing the statement of work, or learn about state-of-the-art technology, or explore different options to solve challenging problems on their projects. You have to remember that to succeed with the government, you have to possess certain qualities and exude certain assurances that are absolutely essential to being considered a trusted advisor:
Come across as squeaky clean honest and ethical—a "straight arrow."
Care about the government's interests and the project more than your company, and honestly believe that your company is the best possible contractor for the job.
Care about our country a great deal.
Understand how this government servant's mission impacts the entire country.
Be there to help and to solve their problems.
Always give them the best deal.
Finally, recognize they are human beings. This includes remembering their birthdays and their family members' and pets' names and knowing what makes them laugh.
There are no shortcuts to being successful in capture and business development—just a lot of hard work through adding value to people over an extended period of time. But it does seem to have high rewards at the end for everyone involved.
Today's article will cover how to earn a trusted advisor status when interacting with the government customers, and gain competitive advantage in your capture efforts. Before we get to the article though, a few announcements on our upcoming workshops:
Want to learn more about capture techniques that work? Check the Capture Management modules from our comprehensive self-study system called Blueprint for Winning Government Contracts: https://www.ostglobalsolutions.com/product/blueprint-for-federal-business-development/
P.S.: If you need Business Development, Capture Management, Proposal Management and Writing, Proposal Training Support, or would like to lease a proposal space for the duration of your proposal pursuits, please call us (301) 384-3350 or email service@ostglobalsolutions.com. We have more than 900 fully vetted capture and proposal managers, technical writers, graphic artists, orals coaches, editors, subject matter experts, and other proposal support. We have supported 18 out of the top 20 Federal Contractors and have won $19 Billion since 2005.
Best regards,
OST Global Solutions, Inc.
…Because There is No Second Place in Proposals! TM
https://www.ostglobalsolutions.com
---
Professional Proposal Tools and Self-Study Training
Order at https://www.ostglobalsolutions.com/training/self-study-courses
Blueprint for Winning Government Contracts
– Explains how to find opportunities, write winning proposals, and get multimillion dollar contracts to grow your small business in the federal market.
Task Order Manual Template
– Reusable professional tool-set (electronic template) – instant download.
Executive Summary Secrets
– Self-study course (workbook and audio CD) to persuade evaluators to award the contract to you.
How to Succeed as a Proposal Consultant
– Tips to get more work, higher pay, and better clients – instant download.
A Proposal Manager's Essential Checklists
– Reusable tool-set for consistently successful proposal management and coordination.
Proposal Resources Estimating Guide
– Guide for determining required manpower and hours to calculate how much a proposal should cost.
Six Strategies to Grow Aggressively in the Federal Market
– Video course explaining how to succeed and grow in the highly competitive federal contracting market.
Contact us to learn more.