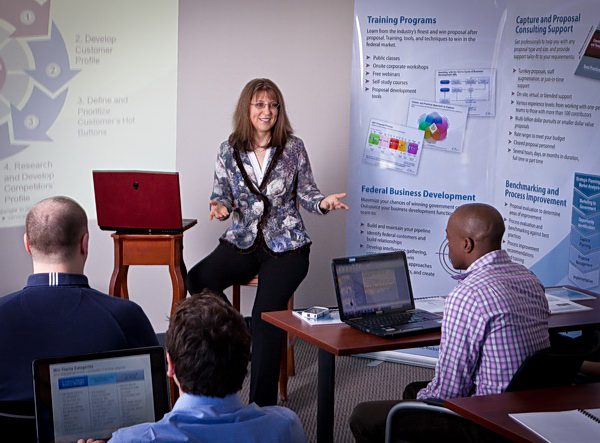 Becoming a Certified Business Development Professional
OST's Bid & Proposal Academy provides training and certification for general and specialized business development and proposal professionals alike. We currently offer 15 courses and 5 certification tracks that will help you achieve a well-rounded knowledge of your respective field, whether you're new to the industry or a veteran business developer. You can participate in our proposal training and business development classes from any location via GoToMeeting, join us in person at our Rockville, MD, office, or contact us to get a quote for onsite training.
Our proposal and business development classes are taught by seasoned industry veterans who interweave their personal experiences into an educational framework developed over 20+ years of Federal market experience. Each course offers a unique mix of information, practical application exercises and tools appropriate for the topic. You can typically expect to walk away with PowerPoint slides, notes, completed exercises, a few new tools you can reuse to simplify your job, and ideas from your instructor and peers that you'll be dying to try after the class.
Just like a college degree, each certification we offer through our Bid & Proposal Academy requires a certain number of core, major, and elective courses. Every certified professional must go through the full, rigorous program to master all fundamental and advanced aspects of their profession and prepare for the real world of business development.
Each course in our program consists of one or two units. One day of class equals a single unit or 7 hours of instruction. To become certified, you have to take the following courses and an exam designed for your specific program:
3 core classes (6 units):

Foundations of Proposal Management
Foundations of Capture Management
Writing Persuasive Government Proposals

All the major classes required for the specific certification type (6 units)
At least 2 elective classes (4 units)
Why You Should Invest in Certification
Our Certification program will:
Help your organization succeed through higher win rates and greater efficiency, speed and productivity
Enable you to develop into a more versatile and knowledgeable professional
Provide faster career progression
Provide greater job security/help you become more employable, regardless of the state of the economy
Offer greater recognition for your expertise and authority in the proposal field
Enhance your resume
Earn Continuing Education Units (CEU) for your APMP Accreditation, Professional Development Units (PDU) for your PMP certification, or credits toward other certifications
Signing up for one of our certification tracks instead of taking one-off courses will also save you money. By registering for the full certification package at once, you'll save 25% on the total price for all courses, which normally would cost $1,390 for each 2-day class or $10,320 (earl bird registration) to $11,120 (normal registration) for all required courses. If you take advantage of our certification package deal, you'll have 2 years to complete all classes required for your chosen certification. Register for a Certification Track & Save 25%
To make certification more accessible to all business development professionals, we also offer these savings alternatives:
How You Can Earn Units Towards Your Chosen Certification
Proposal professionals can take courses or earn credits towards certification in the following ways:
Through OST's Bid & Proposal Academy public workshops
Through OST training at your company
By applying for credit by showing proof of Association of Proposal Management Professionals' (APMP) accreditation (a Foundations accreditation is worth 1 unit, a Practitioner accreditation counts for 2 units, and Professional accreditation counts for 4 units)
By applying for credit after taking any OST course offered since 2009; both new and previously-taken classes can qualify toward core, major, or elective credits, depending on the course
All of our public courses are taught at our Bid & Proposal Academy headquarters in Rockville, MD, and available live via webcast. We are also able to present courses at other locations, including your offices. To learn more, visit our Onsite Corporate Classes page.
The Industry's Finest Teach the Art of Winning Federal Contracts
Not all training is the same. Our courses are taught by engaging, seasoned industry professionals and distinguished by the five characteristics below, which differentiate them from all other business development classes in the market.
Continuously-Updated Content: Our courses are based on the latest best practices and trends; we don't teach stale proposal principles from the last few decades. We build on what has worked for years, but continuously adjust the practices to changing procurement realities and the competitive landscape.
Education That Extends Beyond Process: Students of our Bid & Proposal Academy receive the most sophisticated and detailed tools, shortcuts, exact how-to instructions, and secrets of how to win more contracts. We have them perform practical application exercises in class to drive home the principles our instructors present and illustrate through their shared experiences and lessons learned.
Content-Rich Materials: We provide our students with learning materials embedded with multimedia, graphics-rich PowerPoint slides, hands-on exercises, reusable tools, and discussions using the most effective adult learning techniques to aid in better understanding and retention.
Valuable Insights From Practicing, Pedigreed Proposal Professionals: Our instructors are equipped to answer the tough questions instead of just delivering teaching materials, because they've worked in the industry for decades and built successful companies of their own through Federal contracting. They tailor materials to each business's specific challenges and share their experiences, which are based on the most current realities of the Federal market.
Systematic Learning Opportunities: Each of our Bid & Proposal Academy courses builds on others to provide systematic and comprehensive understanding of capture management, proposal development, and business development professions.
More on Training at OST Global Solutions
Our interactive, 1- or 2-day classroom seminars and workshops are conducted at our training facility in Rockville, MD, and made available to students everywhere through webcasts. They are led by highly-experienced and knowledgeable instructors who are considered industry leaders and provide in-depth, hands-on training on all aspects of the Government acquisition process. Each class we offer comes with copies of the PowerPoint slides presented, detailed instructions, checklists, templates, and exercises to reinforce the principles taught.
All class times listed in the Schedule of Public Courses below are in Eastern Standard Time (US). Our classes provide 3 CEUs towards APMP accreditation or 3 PDUs towards PMP accreditation. You will be awarded with a Certificate of Completion upon finishing the classroom training. You can take any class remotely as well, since we have webcasting capability. Please send us an email at [email protected] if you'd like to attend a class via live webcast (date and time will be the same as the classroom training).
Corporate Proposal Training
If you don't find a class that suits your schedule, consider us for onsite corporate training at your company or for a webinar for your dispersed workforce, if you have multiple locations. Call us at (301) 384-3350 to discuss your proposal training and business development training needs, or email us with details about the course(s) in which you're interested, how many employees will be participating and when you'd like to hold the class(es) to get an estimate.
Ready to Win More Government Contracts?
Schedule a FREE 45-minute Business Development Consultation with one of our experts or call (301) 384-3350.
We'll discuss actionable ways you can grow in the Federal market and
tell you exactly how we can help you reach your goals.