We at OST would like to wish everyone a happy holiday season as many of us work to close out 2022. Now is a great time to look out at 2023 and review the top federal contracting opportunities on the horizon. The total value of the top 20 federal opportunities is expected to reach $500 billion in FY 2023, more than double the value in FY 2022, according to Deltek.
This increase in federal spending means more opportunities for government contractors, whether they specialize in Information Technology, Engineering Services, Health Services, or Defense and Aerospace. Here's a look at some of the top federal opportunities in FY 2023:
OASIS Plus Multi-Agency Contract (OASIS+)
This Multi-Agency Contract (MAC) is designed to offer flexible and innovative solutions for complex professional and engineering services spanning various service disciplines and contract types. The vehicle from GSA combines OASIS, portions of HCATS, FSSI BMO, and additional scope to culminate into a $ 133.7 billion GWAC, according to estimates from Deltek.
GSA released the draft RFP in November, with a second draft RFP expected to drop in the second quarter of FY 2023. The solicitation includes more than 50 NAICS codes across multiple domains.
EVOLVE IDIQ
This Multiple Award IDIQ from the Department of State will support the needs currently met under Vanguard 2.2.1 and Information Technology End-User Support Services (ITESS) Task Orders. The Evolve procurement vehicle is divided into five functional areas: IT management, cloud and data center, application development, network and telecommunication, and customer and end-user support categories. Offerors are not required to compete in all functional areas, but they must submit separate proposals to compete in each category.
The government released the final RFP in October, and Phase I proposals are due January 18, 2023. The State Department estimates that it will notify bidders of their advisory down-select decisions and launch Phase 2 of the process as soon as April.
Alliant 3
This vehicle from GSA is expected to offer IT solutions such as artificial intelligence (AI), distributed ledger technology (DLT), robotic process automation (RPA), and other types of emerging technologies. Bidders can review the draft RFP and scorecard at SAM.gov. Questions and comments are due to GSA by 12:00 pm ET on January 6, 2023. GSA is expected to announce a release date for the final RFP in February 2023 (the final RFP is expected no earlier than May 2023).
The primary NAICS for this opportunity will be 541990 – All Other Professional, Scientific, and Technical Services. The Alliant 2 ceiling increased from $50 billion to $75 billion, but the expiration date remains as June 2028.
DLA J6 Enterprise Technology Services (JETS 2.0)
This $6-billion follow-on acquisition to the Defense Logistics Agency's Information Operations J6 will provide the full range of IT services, technical and management expertise, and research and development across the DLA IT enterprise.
DLA is expected to release solicitation documents for JETS 2.0 in early 2023. The agency has already indicated general service areas it intends to address with Task Orders, including Network and Telecommunication Services, Enterprise Service Delivery (ESD), Defense Business System (DBS) Life Cycle Management, Cyber Security Support Services, and Cloud Hosting Services, among others.
OST Global Solutions is a professional business development consulting firm. We have experience supporting large, strategic bids like the ones mentioned here. We can provide capture and proposal teams to develop a complete, winning proposal. Or we can provide consultants on a case-by-case basis to fill gaps on your business development team. Our services related to these proposals consist of capture management, team identification/negotiation, proposal management, pricing support, orals coaching, proposal writing, graphics support, editing, desktop publishing, and cost volume development.
Reach out to us to discuss your bid for these opportunities, so we can discuss how to develop a winning proposal.
service@ostglobalsolutions.com
Upcoming Bid & Proposal Academy Classes
OST Global Solutions
7361 Calhoun Place, Suite 560, Rockville, MD, United States
Developing a Winning Cost Volume course helps you increase your federal contract win probability. We focus on government contract evaluation, pricing fundamentals such as cost buildup and cost volume elements, price strategy, developing basis of estimate (BOE), coming up with assumptions, Work Breakdown Structure (WBS), cost volume narrative, winning in lowest price technically acceptable proposals (LPTA), and much more. Learn More
OST Global Solutions
7361 Calhoun Place, Suite 560, Rockville, MD, United States
This class covers the spectrum of the most important topics, from preparing for a proposal effort and making a bid-no-bid decision, to orchestrating a great proposal kickoff, driving subject matter experts to produce winning content, exhibiting superb leadership and team management skills, managing conflict, setting the right expectations, optimizing proposal team performance, getting the most from the proposal color reviews, and mitigating proposal risks at every stage to reduce stress and increase your proposal's Pwin. The course also focuses on measuring and improving cost-efficiency and effectiveness of the proposal team. Learn More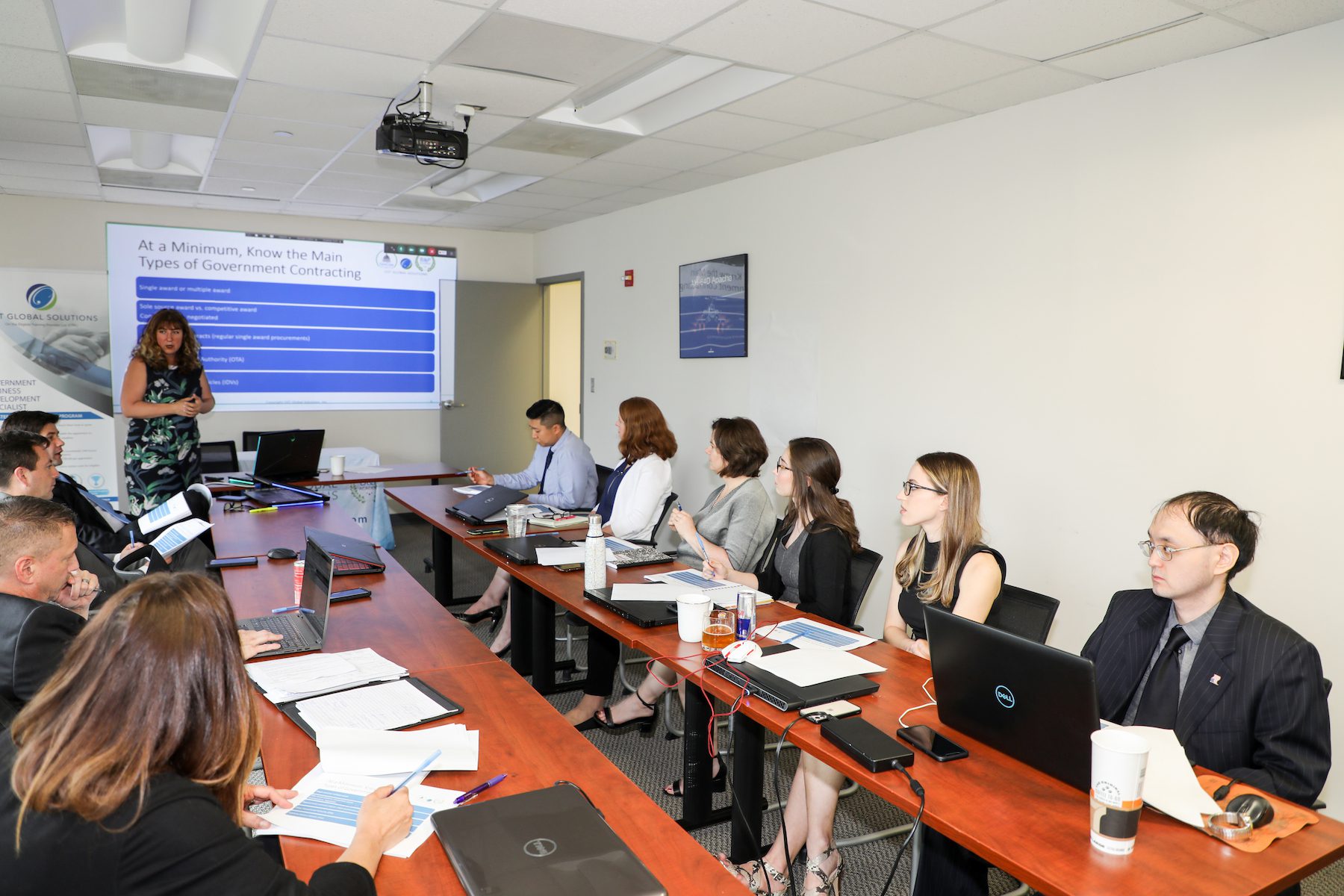 OST Global Solutions
7361 Calhoun Place, Suite 560, Rockville, MD, United States
This Government Business Development training offers essential skills in professional business development for government contractors selling services and solutions to the Federal Government. The two-day course begins with an overview of the Federal business development (BD) process and what it takes to succeed in the profession. It proceeds to the basics of U.S. Government business. Learn More